ARMED FORCES REMEBRANCE DAY,GOV OBI PATRONISE REGION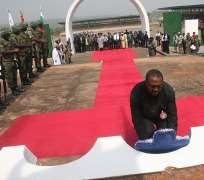 Gov. Peter Obi said that his Government was all-inclusive and assured legionaries that he would continue to work with them at all times for the benefit they add based on their experience and patriotism. He said this yesterday shortly after laying wreath at the cenotaph at the Ekwueme Square to mark the 2015 Armed Forces Remembrance Day.
Obi who gave example with his Special Adviser, Col. Molukwu (Retd) as one of the retired soldiers in his Government, said his Government would continue to identify with them and consult some of them on aspects of governance, including security.
Obi also took the opportunity to task serving military men to always put the interest of the country first in whatever they do. "Whether as military men and in whatever position one finds himself, one is called upon to put the interest of the country first in whatever one does always bearing in mind that we have the moral task of building a better society for our children." He warned that continued abuse of the society will make her to visit our children with catastrophes.
Obi assured the military that the Government would continue to support them. He said that based on his last visit to Army Day Secondary Schools at Onitsha Army barracks and the opportunity it afforded him to inspect the entire barracks, that his Government would certainly contribute to the upgrade of the barracks.