Jonathan Reaffirms Commitment To Reforms, Calls For Continued World Bank Support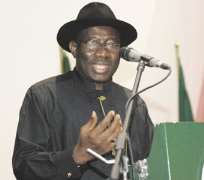 President Goodluck Jonathan Tuesday in Abuja reaffirmed his Administration's commitment to the implementation of all reforms considered necessary for accelerated economic growth, job creation and poverty alleviation in Nigeria.
Speaking at an audience with the World Bank's Vice President for Africa, Mr. Mouktar Diop, President Jonathan said that although it was not easy to undertake certain reforms in an intensely political environment, the Federal Government under his leadership will continue to evolve and implement policies that will assure sustainable development and the long-term well-being of the nation.
Acknowledging Mr. Diop's commendation of his Administration's stewardship of the Nigerian economy, the President said that with the continued support of the World Bank, other international institutions and investors the Federal Government will achieve an even higher growth rate for the national economy.
'We will continue to do our best. We would have had more robust growth by now but for the global economic recession. With your continued support, we will certainly achieve more,' he told Mr. Diop.
The President said that Nigeria will particularly welcome more support for the World Bank for the concluding stages of its power sector reforms especially for the speedy resolution of labour issues and other matters related to the ongoing privatization of the sector.
Mr. Diop had praised ongoing reforms in Nigeria and the management of the Nigerian economy by the Jonathan Administration which he said had made Nigeria one of the fastest growing emerging economies in the world in spite of the current global recession.
The World Bank Vice President also disclosed that by the World Bank's own criteria and assessment, the level of poverty in Nigeria had actually declined from 48 per cent to 46 per cent under President Jonathan's leadership.
Mr. Diop assured President Jonathan that the World Bank will 'use all instruments available to it' to support Nigeria's power sector reforms, saying that he had a clear brief  from the bank's President to give all necessary support for the reforms.