FINALLY UMARU YAR`DUA LISTENS… Sacks Tunde Ogunshaki from EFCC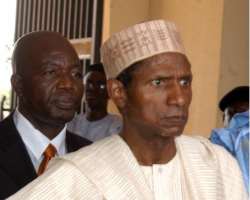 For engaging in examination malpractice, Mr. Tunde Ogunshaki, director of operations of the Economic and financial crime commission, has been redeployed back to the Nigerian police force. Though no official statement has been released, our impeccable sources within the anti graft agency revealed that Mr. Ogunshaki, who is currently a law student at the University of Abuja, paid another student (name withheld) to write his examination.
At Ogunshaki`s hiring in 08, Huhuonline.com made public his shady past and repudiated his hire. Our report read:
"According to an Intelligence report obtained by huhuonline.com, the redeployment of Mr. Tunde Ogunshaki as the director of operation of the anti graft agency is really questionable. Huhuonline.com learnt that during the reign of Ribadu/Larmode, the anti graft agency wrote a petition against Mr. Tunde Ogunshaki to the State Security Service (SSS). The petition which was read to huhuonline.com, stated that Mr. Ogunshaki had demanded a whopping sum of Fifteen Million Naira (N15m) from a bunch of pen robbers led by Alhaji Abubakar Sokoto, the chairman of the Nigerian Pension board.
Our source revealed that though Mr. Tunde Ogunshaki talks tough and gives the impression of being a no nonsense crime buster, but in actual sense he is a typical police man who believe in and practices gbalamu (bribery & covering up illicit deeds) and wetin you carry.
Huhuonline.com investigation reveals that Alhaji Abubakar Sokoto had worked in cahoots with some other persons to defraud the Nigerian pensions board of the colossal sum of fifteen million naira (N15m). However, when this N15m theft was brought before Independent Corrupt Practices and Other Related Offences Commission ( ICPC), the agency's director of operations, Mr. Tunde Ogushaki requested for a bribe of fifteen million naira, to facilitate the cover up of this grand theft. However, N15m represents the said amount that Alhaji Abubakar Sokoto and his gang had pilfered from the coffers of the Nigerian pension funds.
With the recent redeployment of Mr. Tunde Ogunshaki as number two man in the anti graft agency, staff members who authored and facilitated the petition to SSS are anxious, and are of the opinion that their job and source of livelihood may be on the line, said our source".
When our report aired, Musa Yar`dua administration paid no attention, because Ogunshaki was seen as the man to do the dirty job, in the reconstituted, but water down EFCC, whose term of reference was to ensure that some thieving ex-governors were acquitted, despite overwhelming evidence against them.
With Larmode as EFFC`s director of operations, the anti graft agency, was noted for its tough stance against 419 and its perpetrators. But under Ogunshaki, EFCC officials have been on the payroll of notable 419 kingpins. To be continued!
|
Article source