Akinola Condenms Use of Female Bankers To Attract Deposits As CBN Marks Fifty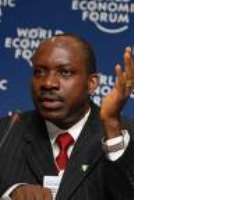 By Oluremi Olatunde Famous, Abuja
Rev. Peter Akinola, the Primate, Church of Nigeria, Anglican Communion, on yesterday charged the CBN to checkmate the menace of using female employees to attract deposits by commercial banks.
He gave the charge in a sermon at the interdenominational service to mark CBN's 5o years anniversary
at the National Christian Centre, Abuja.
Akinola said, "as the apex bank in the land, it is the duty of CBN to enthrone God's righteousness in the banking sector.
"Many commercial banks today have turned their single female employees to corporate and official prostitutes and married ones to become adulterous.
"The CBN should be able to make policies to sanction banks that engage in the practice, because they are destroying the future of our young girls and breaking the homes of the married ones."
Akinola also warned against the danger of importing foreign credit systems by banks, such as Visa Card
and Master Card, without adequate measures to checkmate creditors.
He said that total liberation of the credit system could lead to depletion of banking capital and economic crunch.
Earlier, the Vice-President, Dr Goodluck Jonathan, had read the only Bible passage from the Gospel of St. Luke, which centred on the story of ten lepers healed by Jesus Christ.
The passage says out of the ten lepers healed, only one returned to give thanks to Jesus, the healer.
In the sermon, Akinola commended the CBN management, under the leadership of its governor, Prof.
Charles Soludo, for taking a cue from the Bible lesson to give thanks to God for the bank's 50 successful years of operations.
In his remark, Soludo said the week-long activities would be a moment of sober reflection.
"This is not a moment of celebration. It is a time to reflect on the global economy, which is in
turmoil and the Nigerian economy, with its enormous challenges," he said.
The interdenominational service was attended by the Vice-President's wife, Patience, Chairman, Senate
Committee on Banking and Finance, Sen. Nkechi Nwogu, PDP Chairman, Chief Vincent Ogbulafor, former
Gov. Peter Odili of Rivers State and other personalities.