Court Sacks Oyinlola As PDP Scribe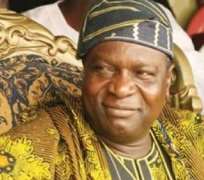 The Abuja Division of the Federal High Court, Friday, sacked the National Secretary of the Peoples Democratic Party, PDP, and former Governor of Osun State, Prince Olagunsoye Oyinlola, from office.
Oyinlola was ordered to vacate the office after the high court presided by Justice Abdul Kafarati, held that there was merit in a suit that was entered against him by Chieftains of the party in Ogun State.
The state chapter of the PDP led by its Chairman and Secretary, Chief Adebayo Dayo and Semiu Sodipo, had in their suit, alleged that Oyinlola emerged as the national scribe of the party through a kangaroo process, they said was perfected by former President Olusegun Obasanjo and former National Vice Chairman, PDP South West, Alhaji Tajudeen Oladipo.
They argued that in view of two separate judgments of a Federal High Court in Lagos that nullified the South West Zonal congress that produced Oyinlola as candidate, his continued stay in office was illegal, null and void since his candidacy was annulled ab-initio, contending that 'something cannot be built on nothing.'
Consequently, the plaintiffs had through their counsel, Dr. Amaechi Nwaiwu, SAN,  asked the court : 'Whether the candidacy of Oyinlola as a nominee of the South West Zonal Chapter of the PDP and his consequent election to the office of National Secretary at the National Convention in March 2012 were not invalid, null and void by reason of the order and judgment of the Federal High Court made respectively on the 27th of April 2012 in suit no FHC/L/CS/282/2012 and 2nd May 2012 in suit no
FHC/L/CS/347/2012 nullifying the South West zonal congress of March 2012 from where Oyinlola emerged or ought to have emerged.'