Boko Haram: Benue Govt Seeks FG's Assistance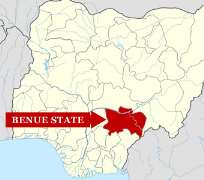 ABUJA, January 10, (THEWILL) - The Benue State Government has again raised the alarm over the threats posed by Boko Haram as it called for assistance from the Federal Government to address the security challenge.
The State commissioner for information and national orientation, Mr. Conrad Welgba, who raised the alarm, Thursday, at a news briefing in Abuja said the state lacked the capacity to contain the dreaded group.
The commissioner said the recent arrest of a suspected terrorist in Gboko was enough confirmation that the existence of Boko Haram in the state was real, adding that the alarm earlier raised by the governor, Dr Gabriel Suswam, was based on security information.
He said the state government alone cannot effectively fight the menace of terrorists as it was beyond its capacity and therefore called for collaboration from the Federal Government and other stakeholders.
"The proactive effort to pre-empt this unimaginable descent into the abyss of preventable disaster transcends the capacity of the Benue State Government.
"We definitely need the collaboration of all stakeholders to properly address this onslaught. We call on the Federal Government to set up a modern anti- terrorism outfit in the state and adequately fund it to properly tackle this security challenge," he said.
Welgba noted that Benue State was critical to the unity of Nigeria considering its centrality in the geography of the country and its role as a binding force between the north and south, making it a target of attack by the Boko Haram elements .
The commissioner explained that when Governor Suswam raised the alarm last December , most people thought he was just crying wolf where there was none . He said many even went out of their way to cast doubt on the veracity of the concerns raised and questioned his (Suswam) integrity outrightly.
According to him, with the arrest of a suspected notorious Boko Haram kingpin on the wanted list of security agents in Gboko, the incidence, apart from heightening security concerns and bringing the state into greater focus in this regard, it has unfortunately moved the insurgency threats from the realm of speculation and conjecture into that of stark reality.
He submitted that the arrest of the suspect has also placed on the table a contemplation of the dire consequences and implication of a successful attack or series of attacks on the state .
It will be recalled that Suswam had in December 2012 raised security alarm over threats by Boko Haram insurgents to attack him and other areas in the state.