We Will Make Asaba A Befitting State Capital - Uduaghan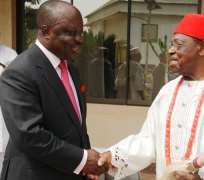 SAN FRANCISCO, January 09, (THEWILL) - Delta State Governor, Dr Emmanuel Uduaghan has said that his administration is determined to make Asaba a befitting state capital worthy of attracting investors and tourists.
This, he noted informed the mega projects, such as new a Government House, Asaba International Airport, Asaba General hospital, beautification and reconstruction of roads in the town.
According to him, when completed, the 10 new roads in addition to the ones presently under construction, would help in not just making every parts of Asaba accessible, but go a long way to boost economic development of the state.
He stated that it is his administration's desire to transform Delta into an economic hub stressing that improved access roads across the state would facilitate the economic development of the state and enhance the living standard of the people.
"Having good roads across the state is part of my administration's goals, that is why a massive reconstruction and completion of roads is on-going and it is my belief that with good road network, the movement of goods and services will be easier and safer," he said.
The Governor informed the Asagba that due to last year's unexpected flood that destroyed properties of Deltans, his administration has embarked on measures to protect the environment and make it safer for the people.
He stated that the magnitude of the flood was unprecedented and unexpected, and commended the efforts of government officials and well meaning individuals for stepping out to tackle the challenges with diligence and passion for the people.
He assured Deltans that measures were being put in place to prevent such a disaster from occurring in the nearest future.
"The disaster was a natural occurrence and there was nothing we could have done to stop it from happening but I assure you that measures are being put in place to ensure that such a disaster would not cause us to lose lives or properties again", he stated.
The Asagba of Asaba, Obi (Prof) Chike Edozien in a brief speech commended the Governor for the impressive on-going reconstruction of roads in the state capital and across the state as well as the mega projects located in Asaba.
The Asagba of Asaba commended the Governor for the prompt action he took towards safeguarding lives and properties of the flood victims and assured him that he would.