Jonathan Is Working To Change Nigeria - Kerley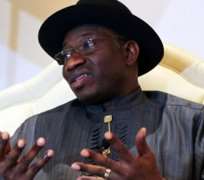 SAN FRANCISCO, January 08, (THEWILL) - Nigerians have been re-assured that President Goodluck Ebele Jonathan is quietly overhauling the nation's security apparatus to meet the challenges of terrorism as posed by Boko Haram and other such activities that have plagued the federation and will therefore not adopt any half-way approach to such an issue as sensitive as national security.
In an interaction with the media on the state of the nation, George Kerley, Coordinator of The Jonathan Project, a non-partisan movement that supports the Presidency of Jonathan said the successes and failures that Nigeria and Nigerians have passed through and the serious campaign on transformation that the president has embarked on, there is therefore the need for an enhanced national security setup and it was that thinking that led to the recent reshuffling of the top echelons of both the police and the Nigerian Armed Forces and the other national security agencies.
He explained that the national intelligence agencies have been collecting very vital and critical information on the activities of Boko Haram which will soon lead to a total taking out of key players and drivers of the Boko Haram insurgency anytime from now. "The full military might of the Federal Republic of Nigeria will be deployed in the total take-down of the extremist Muslim fundamentals that have made bombing of churches and the killing of Christians their pastime.
"That said, it behoves us to consider the comments of a not a few Nigerians who wonder why the President cannot call up his Presidential might and swoop on Boko Haram communities the way former President Obasanjo did to communities likes Odi and Zaki Biam where innocent women, men and children were slaughtered and maimed by rampaging soldiers and houses were razed to the ground," he added.
The coordinator explained that though President Jonathan's has been in office for barely two years "we have seen strong measures of success and progress that we believe this government has not been proclaiming enough ... he has been fixing this country especially the mess created by previous governments without beating his chest or making loud noises. You will not be able to appreciate this very great achievement if you do not know the history and challenges that the overhauling of our railways has passed through. It is only when Nigerians know this that they will understand the magnitude of President Jonathan's zeal to get Nigeria working again."
The interview also touched on developing the Niger Delta area, the president's home region, the unceasing calls for the president to clamp down on corruption and corrupt public officers and his reaction to them and also his person as Kerley described him as a good man, a great leader who is humble, meek and kind.
Below is the full transcript of the interview:
Q: How would you assess the President's tenure in office thus far? Would you give him a thumbs up or a thumbs down?
A: In April 2011, President Goodluck Ebele Azikiwe Jonathan GCFR was overwhelmingly elected President in an election that was globally adjudged as just about Nigeria's finest elections in decades.
In May 2011, he was officially sworn in as President to steer the ship of state of this country for four years.
In the barely two years that President Jonathan has been in office, we have seen strong measures of success and progress that we believe this government has not been proclaiming enough.
So for about one year and seven months since his election and swearing in as President of the Federal Republic of Nigeria, President Goodluck Jonathan has been fixing this country especially the mess created by previous governments without beating his chest or making loud noises.
Only recently, the Lagos - Kano Railway route came alive again after almost 20 years or more of non-activity and redundancy!
You will not be able to appreciate this very great achievement if you do not know the history and challenges that the overhauling of our railways have passed through. It is only when Nigerians know this that they will understand the magnitude of President Jonathan's zeal to get Nigeria working again.
Past administrations in this country had made several attempts to overhaul the railway service in this country but they all failed, we lost billions of dollars and no one was held responsible. We did not recover any of the wasted billions.
In December 1995, General Abacha signed a $528million contract with Chinese Construction firm CCECC to rehabilitate Nigeria's entire 3,500km rail network, supply 620 locomotives and rolling stocks and provide technical training for the staff of the Nigerian Railway Corporation (NRC). This planned four year program failed in the second year.
While officials of the Ministry of Transport blamed the Chinese company for supplying sub-standard locomotives, the Chinese company said most of the sub-contractors, who were local firms and front companies of some members of Abacha government and family, failed to supply the products after they had been mobilised.
Again, in 2006, after receiving a $2.5 billion loan for the Nigerian railway project from the Chinese government, President Obasanjo recalled CCECC and awarded them an $8.3 billion contract to reconstruct the Lagos-Kano railway route. This project was expected to run for five years and was supposed to be the first phase of a 20-year railway modernisation programme of the Federal Government.
In November 2008, President Yar'Adua cancelled the rehabilitation contract stating through Tanimu Yakubu, his Chief Economic Adviser at the 2008 Business Roundtable in Abuja that the award of the contract was flawed and failed to meet President Yar'Adua's Rule of Law Principles.
Tanimu Yakubu had noted that 'for an administration that prides itself in the rule of law, I do not see how illegality will be strictly adhered to in the name of continuity'.
The $8.2 billion naira contract was dumped and the Chinese parted with about $1.6billion.
Robert Ejenavi, a former Auditor-General of the Federation told a Senate Committee on Transport public hearing in June 2008 that the nation spent over $826.6m without any reasults on railway contracts between 1999 and 2007.
You will then appreciate President Jonathan's ability to complete this Lagos - Kano rail project in less than two years of his leadership as democratically elected President of Nigeria.
Just imagine if we were made to go through another season and session of failed years, failed contracts and wasted billions in getting our railway system right!
What we are about to witness now is a total turn-around of the South-Eastern/Northern flank and even though there are some community issues in Ebonyi state hindering the smooth completion of the project, we expect that to be done with as soon as possible.
The Jonathan government has already signed a contracts totaling about N67 billion for the rehabilitation of 2,119km of three Eastern Nigerian rail lines comprising 463 km rail from Port Harcourt to Makurdi, 1,016km rail line from Makurdi to Kuru including spur line to Jos and Kafanchan and 640km rail line from Kuru to Maiduguri respectively.
However, I read somewhere that 14 months after ESER West Africa, a Turkish contracting company arrived Enugu for contract of 10 months reactivation and rehabilitation of the 463 km Easter Railway line between Port Harcourt and Makurdi, the contractor can no longer go on with the job because of issues it is having with the Ishiagu community in Ebonyi state where it is supposed to source granite, the material for blast overlay of chippings along the rail line.
With these planned improvements in the railway sector, it becomes easy to see the big picture and imagine the developments that will come to the land when our railway sector is brought to life once again.
Take the case of the once lively railway town of Kafanchan in Southern Kaduna.
The Kafanchan railway station was commissioned in 1926 and brought about a rapid development of the town as people trooped to Kafanchan from across the country in search of greener pastures.
For decades, commercial and business activities in the town flourished as a result of the establishment of the Kafanchan railway station by the Nigerian Railway Corporation.
President Jonathan will bring the railway town of Kafanchan back to life again again. Traders and farmers will resume transportation of goods and services from the North to the East and vice-versa.
Another incredible progress that has been made has been in the area of power and Mr President deserves all the commendation even as we must continue to support and encourage him to do more.
Under the Jonathan presidency, we are experiencing an extensive overhaul of the Power infrastructure of Nigeria in a manner that has not been witnessed before. Nigeria has achieved over 6,300MW in available generation and have hit a peak of 4,517MW in evacuated power.
There was very limited investment in Nigeria's power sector between 1979 and 1999, a period marked by a collapse in international oil prices, chaotic democratic rule and prolonged military interventions in governance.
Consequently power generation collapsed to a peak of about 1,750MW even though Nigerian had an installed capacity of 6000MW. New capacity was not built and equipment in existing power plants were poorly maintained. By 1999, only 19 out of the country's 79 available generating units were functioning.
We all were witnesses to a yesteryear when power contracts were hurriedly awarded without due process. We were also witnesses to a stalling of the power reform programme in a previous regime.
That notwithstanding, President Jonathan kick-started the program after carefully identifying and removing stumbling blocks and legal limitations and today, we have moved up from the less than 3000MW that President Jonathan inherited when he came to power in 2010.
A few days ago, Bekinbo Dagogo-Jack, Chairman of the Presidential Task Force on Power (PTFP) stated "that there was a difference between the impressive increase we have recorded in available power generation which is in itself a worthy progress and the actual power we can wheel out on any given day based on the transmission and gas limitations".
The simple question we should ask ourselves is this "Is the power situation better now than in 2010 when President Jonathan took over?"
People, right now, we should be celebrating with cautious optimism, the highest generation of electricity in Nigerian history but according to Dr Sam Amadi, Chairman of the National Electricity Regulatory Commission (NERC), it is also important that we do not lose sight of the silent revolution going in the country at the moment as policy consistency, independent regulation and de-bureaucratisation of electricity supply should guarantee that in the next three years and beyond, we will no longer celebrate the addition of 1000MW to the grid. He maintains that the silent revolution is capable of ensuring that we continuously add substantial new capacities every year to the national grid such that sooner than later, we will attain adequacy with sustainability.
On Road Infrastructure Projects - President Jonathan has awarded far more road key road infrastructure projects than all the road projects awarded from the Abacha to Obasanjo years.
A particular case in point is the Lagos - Ibadan road which was mercilessly left in the hands of incompetent concessionaires who were taking this country for a ride.
The concessionaire agreement had been recently cancelled by the Federal Government and contract structures are being agreed upon by the Federal Government and the new contractors the government intends to work with to ensure the smooth and timely delivery of this road.
Q: A pressing question that most people ask is if the President has any plan for the development of the Niger Delta. The delay in completion of the East-West Road and other projects such as the Niger Delta Coastal road for which feasibility has already been successfully completed is also something that worries many Niger Deltans and lead many to believe that the President has forgotten his roots. What is your position on this?
A: President Jonathan is not one to forget where he comes from but we must not also forget that he is President of the Federal Republic of Nigeria and not President of the Niger Delta region or Ijaw territory.
However, the truth and fact of the matter is that the people of the Niger Delta are not happy with the state of infrastructure in the Niger Delta and the East-West road is at the core of critical infrastructure in the Niger Delta.
There is no reason why that road has not been completed by now years after its contract was awarded and project kick-started under the Obasanjo government. There is a general acceptance amongst the people that the current contractor handling the project SETRACO is incompetent and should be removed but then again, let us also not forget that the previous contractors Julius Berger who were seen to be doing a good job were chased out by criminal elements in the Niger Delta who kidnapped, murdered and assaulted workers of the company.
The President has given his commitment to finish the road but that is not just all. We also want to see work started on the Niger Delta Coastal road and many other critical projects in the Niger Delta.
The region that powers the survival of Nigeria cannot be left so derelict!
Also, we must also not forget that this is a democracy and not a dictatorship where the President can just wake up and decree that the East-West Road be allocated impromptu funds without careful deliberations with the members of the House of Assembly and his cabinet.
Even then, we see nothing wrong with the adoption of an Oil-for-Contract barter for the completion of East-West road, Coastal road and many other projects in the Niger Delta after all General Babangida did the same for the Third Mainland Bridge in Lagos.
That said, President Jonathan will complete the East-West road. He will do everything within his power to complete that road as well as kick-start other projects like the Niger Delta Coastal road and the Lagos to Calabar railway link.
I am sure you must have read the comments of some members of the House of Assembly from the North as well and even some Governors from the North complaining about how the Niger Delta is receiving too much money.
The President's commitment to the development that Niger Delta has made it possible for Niger Delta States to receive what is due them as promptly as possible.
It is this commitment to the development to the Niger Delta by Mr President that has ensured that progressive Governors like Godswill Akpabio of Akwa Ibom State have been able to deploy the kind of infrastructure and uncommon transformation we see in Akwa Ibom State.
In fact, only recently, we heard that Governor Godswill Akpabio has won the approval of the Federal Government to construct of the Itu-Calabar road which is a Federal Road. This is how smart, progressive and productive governors should be thinking especially those that have so much billions in their coffers thanks to the volume of oil produced by their states.
If you have seen what Governor Akpabio and Julius Berger did with Itu-Uyo road, then you will appreciate why anyone who plies the Itu-Calabar road will be happy to hear this.
Akwa Ibom state has the best roads in the Niger Delta right now.
Again, the President has expressed his commitment to finish the East-West road which is a very challenging engineering endeavour.
We will and must continue to pressure him to deliver on these objectives.
Let us not also forget the increase in funding that the Niger Delta Development Commission (NDDC) has enjoyed under President Jonathan even though the leadership of the Commission has able unable to get it right since they were appointed.
The President knows that he needs to get it right with NDDC. It is up to us to help him do that.
Q: Most Nigerians are not happy with the increasing spate of bombings in the North being carried out by Boko Haram elements and the seeming inability of the Jonathan administration to curb and end the menace. Many Christian and Southern Leaders have called on the President to act with more bite. Do you and your group not agree that the President has been too soft in the manner with which he has been handling this Boko Haram thing?
There are security challenges all over our country and the President is working round the clock to deal with these challenges which include armed robbery, kidnapping and hostage taking, the unrest and agitation in the Niger Delta and of course the Boko Haram insurgency in Northern Nigeria.
The Jonathan presidency has been able to achieve a reduction in armed robbery incidences in most parts of the country. Kidnap cases have been successfully closed, the unrest and agitation in the Niger Delta is currently being managed and the amnesty programme for ex-militants in the Niger Delta has been commended as one of the most successful disarmament and rehabilitation exercises in the world.
Former Niger Delta armed agitators have been given exceptional opportunities to pursue new endeavours so that they can become more productive members of the communities. The leadership of the Presidential Amnesty Programme (PAP) led by a former member of the Ondo House of Assembly Hon Kingsley Kuku must be commending for this continuing feat. The PAP programme is the most successful programme in the Niger Delta right now. Oil production in the Niger Delta has increased from a paltry 750,000 barrels per day in the restive years to about 2,400,000 barrels per day.
A restive Niger Delta means less oil for Nigeria and less money to spend!
On the issue of Boko Haram, you will agree with me that even though incidences of bombings have decreased, acts of terrorism by the Muslim extremist group Boko Haram still continue in some states of Northern Nigeria.
Such acts of terrorism have been strong detractors of the President's Transformation Agenda and the President is leaving no stone uncovered to ensure that Boko Haram and their activities will soon become a thing of the past.
With each passing minute, thanks to Mr President, the capacity of the Armed Forces as well as other security agencies such as the Police and Intelligence agencies is being boosted to manage the insecurity that groups like Boko Haram represent.
Our intelligence agencies have been gathering critical information on the activities of Boko Haram and continue to do so. We look forward to a total taking out of key players and drivers of the Boko Haram insurgency anytime from now. The full military might of the Federal Republic of Nigeria will be deployed in the total take-down of the extremist Muslim fundamentals who have made bombing of churches and the killing of Christians their pastime.
That said, it behoves us to consider the comments of a not a few Nigerians who wonder why the President cannot call up his Presidential might and swoop on Boko Haram communities the way former President Obasanjo did to communities likes Odi and Zaki Biam where innocent women, men and children were slaughtered and maimed by rampaging soldiers and houses were razed to the ground.
As a former Deputy Governor and then Governor of Bayelsa State where former President Obasanjo ordered the military attacks on Odi community, President Jonathan knows and understands what can happen to a community when you order fully armed soldiers to attack a community. He knows firsthand. He superintended over the restoration and will be the last person to want to do what those soldiers did in Odi. Odi is yet to recover from that grave act of genocide.
All the same, Boko Haram will be brought down. What must be done will be done eventually.
Having said that, we cannot but agree that there is a political side to the Boko Haram infidel insurgency. The plot and plan of those that drive the Boko Haram political angle is that President Goodluck Jonathan be seen as unable to manage the crisis in the North.
The reason why these people are bombing churches is so that they can win the sympathy of others in their religion.
Take my word for it. They will all go down.
Q: Are you saying that President Jonathan is on top of the situation?
A: Exactly! The fact is, the President is quietly overhauling the security of this country to be able to meet the challenges of terrorism and he is leaving no stone unturned. This is not the time for half-way approach to an issue such as national security.
We have seen the overhaul in the Nigerian police and the hierarchy of the Nigerian Armed Forces as well as other security agencies.
We continue to see improvements in the capacity and capability of our military and the increased sensitivity of the Federal Government to the needs of those who have the immediate mandate to secure this country.
Mr President is on point.
Q: Nigerians are saying that the President is not doing enough to fight corruption? You agree?
Corruption has been a burning plague in this country for decades now and successive governments have always come up with their own attempts at curbing or containing corruption.
Major Kaduna Nzeogwu listed corruption as one of the reasons why he and his group carried out their bloody coup plot.
Almost every other coup plotter since then has also listed or mentioned corruption as one of the reasons why they were taking over power yet, years after, and several coup plots after, Nigerians agree that the military brought us far back than the forward they promised.
Many of them are now billionaire retired generals.
General Abacha came up with his own version of a war against corruption and jailed some bankers but right now, countries like Switzerland are still repatriating the Abacha family loot!
The fact is, institutions that have the mandate to fight corruption should be given the mandate and independence to fight this grave societal menace that continues to hinder our growth and development.
This is exactly what the Jonathan Government has set out to do from its inception by strengthening and equipping the EFCC and ICPC to carry out its mandate without interference from the Executive.
This explains why we have not heard of any report of interference of the executive in the work of either the EFCC or the ICPC.
Interestingly, most of the previous attempts by previous governments to fight corruption have been too cosmetic and have turned out to be more corrupt that even the corruption they set out to fight.
The fight against corruption was eventually turned in a persecution vehicle to fight political enemies, witch-hunt stubborn and over ambitious enemies as well as an instrument used to plot the downfall of mischievous political allies and unwilling political pawns and stooges.
Only recently, we heard from some old gladiators that all it took to be set-up for a political fall was a midnight call to another gladiator to frame another for corrupt practices even when the law had not conferred a guilty tag on their prey.
Now, is this the kind of charade that you want President Jonathan to indulge in? President Jonathan is too decent for that!
Any fight against corruption must be backed by the law and be people-driven and systematically structured to sustain itself.
Some time ago, a former Governor of Delta State was convicted by courts in the United Kingdom for corrupt practices. This is how international partnerships could be strengthened to use the law.
President Jonathan did not need to enlist Israeli mercenaries to go and abduct James Ibori from the streets of the United Kingdom!
One of the biggest wars that President Jonathan has continued to fight has been that of political and electoral corruption and he is winning.
The 2011 elections marked a watershed in the political history of Nigeria as for the first time in a long time, the votes and the voices of Nigerians began to count.
The South West was the biggest beneficiary of this tremendous battle against electoral corruption that President Jonathan had begun. That battle will continue.
When the people are empowered to vote into power those they believe can lead them, then they are automatically empowered to vote out corruption in whatever form it comes.
This is not the time for make-shift wars against corruption. This is the time for the people to build strategies to fight corruption. This is a critical ingredient in the President Jonathan Transformation Agenda which is founded on empowering the people to make change happen!
At no time in the history of this great country have we had a social media as active as it is now.
Nigerians are speaking up and speaking out like never before. They are talking about their problems and their challenges. They are talking about their pains, their sorrows and their burdens. They are talking because they want a better life for themselves and their loved ones. They are talking because they know their President is listening.
In spite of all the negativity that a certain myopic coalition have chosen to spew and disseminate on social media, the President and his team continue to listen so that they can make things better for the millions of Nigerians who voted them into power.
The President will continue to listen to Nigerians because he does not have a choice and because he believes that in the thousands of voices out there, there are brilliant, intelligent and intensely resourceful young men and women whose ideas and solutions can bring change and real transformation. It is therefore the responsibility of all of us especially groups like mine to scout for, head-hunt and find these change-makers, rainmakers and solution providers.
The Transformation of Nigeria is a responsibility of every living Nigerian including those who have vowed never to see anything good in what this government does.
Many of those who profess to seek progress for this country are just being mischievous in their plots. Some of them had an opportunity to drive change in this country yet allow over ambitious political aspirations overwhelm and becloud their thinking.
Go and read the book by Ngozi Okonjo-Iweala, 'Reforming The Unreformable' and you will understand why transformation and reform agendas that are not driven by the people will always fail especially when the so-called reformers have their own personal political agenda and ambitions.
Q: Is there any particular comments you would like to make in conclusion so that we can wrap this all up?
A: The fact remains that President Jonathan is good man and a great leader. It takes great humility, meekness and kindness to the kind of good leader that this President is.
Take for example, President Obasanjo locked down Slok Airlines owned by Orji Uzor Kalu when he could no longer take Orji Uzor Kalu's stubbornness and disdain for his administration.
President Obasanjo refused to allow Orji Uzor Kalu's company Zerock Construction Company enjoy any Federal Government patronage until he left government.
This President is not like that. He does not witch hunt anyone. There are many known critics of his administration who are top level contractors and consultants in many government owned ministries, departments and agencies.
For instance, a known rabid critic of the President and former minister in the Obasanjo government is a top level consultant with the Central Bank! But you see, President Jonathan is not the type who would go out of his way to query the CBN Governor on why he should give out contract largesse to this fellow.
In the same vein, President Jonathan cannot go out of his way to plot the fall of any governor who threads on his path and talks carelessly like we have seen in the recent months.
For a country that has had her fair share of dictators, coup plotters and murderers occupy position as leaders, this is a good thing.
There was a country where people got tossed into jail because they wrote something negative about their leader.
And there was a time in that country when newspaper houses were closed down because some newspapers wrote unpleasant things about their leaders.
That country is no more and that time will never come again.
And then there was a time in this country when some former public servants became critics and went into exile for fear of persecution.
And then again, there came a time in that country when the a new humble leader welcomed them back and continues to welcome them even with all the venom they ungratefully pour on his administration.
The question people ask is, what is it these people feared so much about Yar'Adua?
And then they also ask. What is it about President Jonathan that makes them know that they are safe? Of course, the reason is simple and not far fetch. they all know Jonathan is a good man.
We must support this President even as we constructively criticize. Constructive criticisms are good for any nation and help to keep the leaders on their toes.