Chad: 40 Paralyzed After Meningitis Vaccine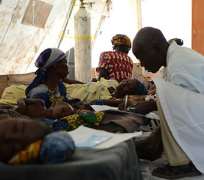 SAN FRANCISCO, January 08, (THEWILL) - Reports coming out of Chad are suggesting that a vaccination tragedy has hit Gouro, a village located in the northern part of the country.
A report published on the health portal vactruth.com quoting a local newspaper La Voix said out of the 500 children who received, the new meningitis vaccine MenAfriVac, at least 40 of them between the ages of seven and 18 have become paralyzed and also suffered hallucinations and convulsions.
The new vaccine manufactured by Serum Institute of India Limited according to The Meningitis Vaccine Project (MVP), is the first vaccine manufactured and approved to be transported without refrigeration or ice packs for up to four days.
This claim is further backed by the World Health Organization's website and the Bill and Melinda Gates Foundation website.
According to a Mr. M., cousin of two of the vaccine-injured children, who currently remain critically ill and hospitalized, who was quoted by the report, many of the children reacted within 24 hours of receiving the vaccine. He said that at first the children vomited and complained of headaches, before falling to the floor with uncontrollable convulsions while bent over with saliva coming from their mouths.
He went on further to say that on December 26, 2012, the Ministers of Health and Social Security visited Gouro, along with two Members of Parliament to evacuate approximately 50 paralyzed children to a hospital in the capital N'Djamena, over three hundred miles away.
Government's response to the tragedy, he added, was through paying the obviously traumatized and confused parents money in a desperate bid to silence them.
The La Voix, report also quoted a member of the medical staff, as well as a comment from Dr. Daugla Oumagoum Moto, the director of the Center of International Health Support (CSSI), as saying the reactions are not consistent with this type of vaccine against meningitis, which they say are normally fever, vomiting, and headaches, not the adverse reactions experienced by the hospitalized children.