NNPC Confirms $1.5bn Loan, Says Funds Will Pay Off Accumulated Debt For PMS Supplied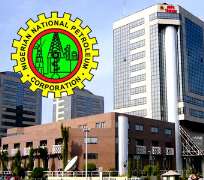 SAN FRANCISCO, January 08, (THEWILL) – The $1.5billion syndicated credit obtained by the management of the Nigerian National Petroleum Corporation (NNPC) was purely a "commercial decision" taken by the corporation to pay off accumulated debts for petrol already supplied by foreign importers and to save Nigeria's credit rating in the international markets, a source at the corporation told THEWILL Tuesday.
"The management of the NNPC took the last-minute decision to salvage our credit rating as the Ministry of Finance has not been forthcoming for months with payments to our major international suppliers like Glencore, Trafigura, Vitol and others who have been facing the painful prospect of writing off millions of dollars owed them as bad debts.
"If this had happened, our ability to access foreign loans as a country would have been impossible and, believe me, credit rating agencies, which upgraded us recently, would have downgraded or even blacklisted us as serial defaulters.
"It was our only option and it was purely a commercial decision and I don't think we require the National Assembly's approval to go ahead with it. It was purely a management decision to ensure steady supply of petrol and to save our face amongst our foreign partners," the source, who asked not to be named in this report, said.
Explaining further, the source said the debt would be in NNPC's books and not the Federal Government's.
The NNPC over the years had been mismanaged leaving the corporation in huge debts and corruption.
News agency, Reuters, which broke the news on the loan deal, said it was struck towards the end of last year.
The loan, provided by several Nigerian and international banks, was brokered by Standard Chartered Bank.
The NNPC pledged 15, 000 barrels of crude per day as collateral with an agreement to pay the loan back in five and a half years.
The NNPC is believed to owe foreign commodity traders over $4 billion for petroleum products supplied over the years.
Meanwhile, reports reaching THEWILL from the National Assembly indicates that the federal legislators are irked by the loan deal and are set for a showdown with Executive.
Some legislators have queried the audacity of the NNPC to obtain the loan without the approval of the National Assembly.
The National Assembly had grudgingly on Thursday, December 13, 2012, approved a N161bn supplementary budget requested by President Goodluck Jonathan to settle fuel subsidy payments for the remaining part of the year to ensure steady fuel supply during the yuletide.