KUWAITI FORCES DISPERSE PROTESTERS WITH STUN GRENADES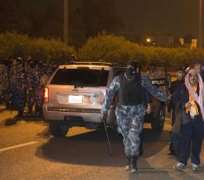 Security forces used stun grenades to disperse hundreds of opposition activists trying to stage a march in Kuwait on Sunday, part of a series of protests against what they see as a rubber-stamp parliament, and made several arrests.
Protest marches have grown more frequent in the U.S.-allied oil producer since the opposition boycotted a parliamentary election on December 1 over changes to voting laws that they saw as an attempt to favor pro-government candidates.
Witnesses said between 200 and 300 people had barely gathered in an affluent suburb of Kuwait City late on Sunday when security forces ordered them to disperse because their rally was not licensed.
One witness said that when the men and women moved to the middle of the road and began chanting, security forces attacked them with smoke bombs and stun grenades.
The security forces chased the demonstrators into side streets and arrested about 20 people, including a former MP, according to his Twitter account.
"I saw about a dozen people being arrested," one witness told Reuters.
An Interior Ministry spokesman said several "instigators of unrest" had been arrested but that security forces had used only stun grenades.
A long-running power struggle between members of Kuwait's elected parliament and its cabinet, appointed by a prime minister chosen by the emir, has held up reforms, stalled investment and prompted the dissolution of a series of assemblies.
The last, opposition-dominated parliament collapsed in February. With the opposition boycotting last month's election, the sixth since mid-2006, more than half the 50 lawmakers in the new National Assembly are newcomers to parliamentary politics.
Sunday's protest was the fifth in a series organized by the opposition since the emir, Sheikh Sabah al-Ahmad al-Sabah, used emergency powers to cut the number of votes per citizen to one from four, saying it would fix a flawed system and ensure security.
Members of Kuwait's disparate opposition groups said the measure would hurt their ability to encourage supporters to cast additional votes for their allies and thus form political relationships in a country that does not allow political parties.
Kuwait has the most open political system in the Gulf Arab region - parliament has legislative powers and can question government ministers over policy.
But the Al-Sabah family, which has ruled Kuwait for more than 250 years, holds the key levers of power, with the top portfolios such as the interior, defense and foreign ministries held by members of the ruling family.
REUTERS