Two Killed In Grenade Attack In Kenyan Refugee Camp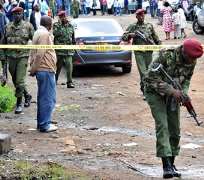 SAN FRANCISCO, January 05, (THEWILL) - A hand grenade attack on men chewing khat, a mild narcotic leaf popular among Somalis inside the world's largest refugee camp near Kenya's border with Somalia has left two people, a local government official said.
The attack occurred in the early evening in a restaurant in the Dadaab camp, home to nearly half a million refugees, the vast majority of them Somalis, District Commissioner Albert Kimathi was quoted by Reuters as saying.
"Two people are dead. We are yet to establish the motive of the attack and no arrests have been made so far," Kimathi said.
Bombings, shootings and grenade attacks across the country, blamed by many Kenyans on Somali militants, prompted the government last month to stop registering asylum seekers and refugees in urban areas.
A Kenyan official said more than 100,000 refugees must now head to Dadaab in the country's remote east. Amnesty International said the order breached international law.
Violence has surged in Kenya, the region's biggest economy, since Nairobi sent troops into Somalia more than a year ago, raising fears of insecurity ahead of a general election in March.