Kogi Indigenes warn Senate President to hands off Ajaokuta Steel Plant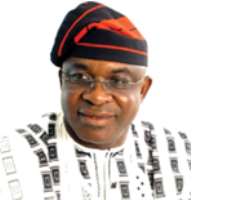 The stage has been set for a major showdown between Senate President, David Mark and indigenes of Kogi State over recent moves to sell the Ajaokuta steel-making complex to Lakshmi Mittal, boss of the world's biggest steel maker Arcelor Mittal.
Huhuonline.com broke the story that Senator Mark, in a billion naira kickback deal was canvassing the sale of Ajaokuta currently being managed by the government since Global Steel Holding, the company owned by Lakshmi Mittal's brothers; Pramod and Vinod Mittal, left the country after their concession was withdrawn by the Yar'adua government for lack of transparency in its attribution.
Sources told Huhuonline.com that Kogi indigenes have sent a strongly worded message urging President Musa Yar'adua to use his high office to bring pressure to bear on the Senate President to back off, saying any attempt to sell Ajaokuta will be strongly resisted. It therefore stands to reason that the Kogi people have mobilized and rallied behind their traditional Chief, Ado Ibrahim who has forged an alliance with Black Fire Energy Ltd, an Australian mining junior to upstage Senator Mark and torpedo the Mittal deal.
According to sources close to Chief Ado, Black Fire Energy Ltd has signed a preliminary agreement to buy 100% of AICO - Ado Ibrahim Mining Company Ltd - in exchange for new Black Fire shares. AICO holds a series of iron ore exploration licenses in Kogi, including Ebiya 1 & 2/786 & 787 and Ajabanoko 764, which have already been granted, and Chocochoco 3683 & 3684, KotonKarfi 5358 and Basse Nge 5359 which are awaiting authorization.
The state of Kogi is known for its iron ore reserves and the Ajaokuta steel-making complex, built by Russia in the 1970s is located there, as are the Itakpe iron mines that are currently under government control. It is expected that Black Fire will launch a rival bid for Ajaokuta with the support of the very enlightened Kogi Chief who holds degrees from the Camborne School of Mines in Britain and has an MBA from Harvard University.
Black Fire plans to spend 2.5 million Australian dollars in the near term on both magnetic and airborne magnetic surveys, drilling, sampling, mapping and satellite pictures to verify the quality of the deposits in Kogi state. The company has set itself a goal of identifying reserves of between 400 million and 600 million tons of iron ore grading from 15% to 65% with an average of 30% to 36%, according to information on their website.
Huhuonline.com checks reveal that Black Fire is run by David and Gary Steinepreis, two chartered accountants who co-founded Ascent Capital Pty Ltd, a company that specializes in recapitalizations and flotations on the Australian Securities Exchange. Matthew Sheldrick, Ascent's associate director, is the other top manager.
Already, Black Fire has called in Ian Whiteley, a former manager at Bank of America and Woodside Petroleum who recently worked as project manager on Sundance Resources' Mbalam iron project in Cameroon, for its program in Nigeria. Another recruit is Kevin Joseph, an ex operations director at Oando Petroleum.
Whether President Yar'adua will cave in to the pressure coming from Kogi remains to be seen, but Presidential sources told Huhuonline.com that the President is not in any mood to entertain any situation that might precipitate another Niger Delta scenario in Kogi state. Put differently, the source added; "the President is telling Senator Mark that on this Ajaokuta steel matter, he [Senator Mark] is on his own."
|
Article source