EFCC Arrests Bank Manager, Ikuforiji's Personal Assistant Over N1.5bn Scam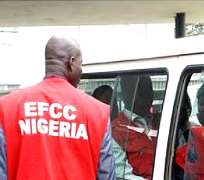 SAN FRANCISCO, January 03, (THEWILL) - A former manager with Intercontinental Bank Plc( now Access Bank), Mr. Olayinka Sanni and Personal Assistant to Adeyemi Ikuforiji, Speaker of the Lagos State House of Assembly, Mr. Oyebode Atoyebi have been arrested by the Economic and Financial Crimes Commission, EFCC, over a case of conspiracy, stealing and forgery amounting to about N1.5billion.
Sanni, a chartered accountant and operator of SIDAW Ventures, a Bureau de Change, was alleged to have fraudulently transferred various sums of money from more than seven customers of the bank into the account of SIDAW ventures owned and operated by him without the customers' consent.
Specifically, he transferred N65million from the account of Babington Junior Seminary; N40million from P.W. Nigeria Limited's account; N15million from Mikano International's account; N20million from Viju Industries Limited's account, N306million from the account of Falana & Falana Chambers and Fafun Nigeria Limited and N1.2billion from Murhi International Limited into his SIDAW Ventures account without the consent of the account owners.
Besides, Sanni also collected the sum of $461,200 USD from one Chukwurah Nkiru, who sold it to him for the equivalent of N76, 559,200 but was not paid.
Sanni is also embroiled in a foreign exchange scam where his SIDAW Ventures account was used to handle the sum of N104, 405, 000 where only N72,229,000 worth of foreign exchange was paid to the customer leaving a balance of N32, 185, 000 being hotly contested between his firm and the customer. Oyebode Atoyebi, Personal Assistant to Ikuforiji was also arrested for complicity and conspiracy with Sanni for allowing his passport-sized photograph and name to be used to open an account in SIDAW ventures limited in the name of Akanmu Babatunde. With this fictitious name, Sanni brokered many shady deals and duped many innocent people.
The two suspects will soon be arraigned in court.