Cecilia Ibru meets hard Bail Terms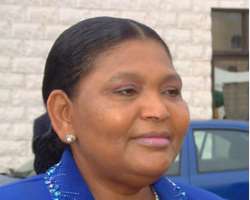 Cecilia Ibru meets hard Bail Terms
Contrary to widespread speculations over impossibility to meet bail conditions, at last the jinx has been broken. Former Managing director of oceanic bank, Mrs. Cecilia Ibru has regained her freedom after meeting all bail conditions set by the court. Ijaw leader, chief Edwin Clark and Senator Fred brume stood as sureties for the former oceanic boss.According to Mr. Femi Babafemi, EFCC spokesman, Mrs. Ibru was released this Thursday evening after the anti-graft agency had verified all the documents submitted to support the bail application as presented by her relations.Mrs. Ibru is the only bank executive that has met the bail conditions set by the federal high court in Lagos as prescribed by Justice Dan Abutu of Federal High Court, Lagos on Tuesday (Sept. 14). The court had granted bail to the fifteen bank executives to the tune of 100 million naira each and two sureties who must have assets worth one billion naira each.
However, the Economic and Financial Crimes Commission (EFCC) has recovered eighty-seven billion and forty-five million naira on behalf of Intercontinental Bank, Oceanic Bank, Afribank, union and Finbank from the bank's debtors.
Speaking to huhuonline.com, the commission's head of media and publicity, Mr. Femi Babafemi said the commission is determined to recover all loans that were declared as non- performing. Mr. Babafemi however disclosed that the commission is still on the trail of the former managing director of intercontinental bank, Mr. Erastus Akingbola who was declared wanted by the Commission.
|
Article source