Police Arrest Man Who Swindles Married Women, Stranded Ladies Through BB Chat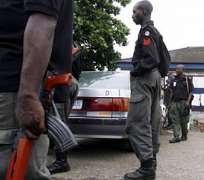 Policemen attached to Ogudu division have arrested a man who specialized in using his vehicle to help stranded ladies at bus-stops, only to dispossess them of their belongings midway.
The suspect, Olalekan Kazeem, also specialized in luring his targets, majority of whom were married women through Black Berry chats, pretending to have job opportunity for them at the Nigeria Customs Service, only to swindle them at the end.
His modus oparandi according to spokesman for the Lagos State Police Command, Ngozi Braide who paraded the 36-year-old suspect before journalists, included picking the ladies at bus-stops, only to pretend that the car had fault, midway into the journey. He would thereafter, ask the ladies to help him push the car. But immediately they alight from the vehicle and attempt to push the car, Olalekasn would zoom off, with the ladies belongings inside the car.
Explaining, Braide said, " It is like the case of the late Cynthia whose killers got her through facebook. In this case, Olalekan started chatting with a woman, one Adebiyi Adenike Okunola on face book and they became friends. . He told her he was a medical doctor and that he was close to the Comptroller General of Customs and that he had a slot in the Customs and would help her secure a job in the Customs. He requested for the sum of N200,000 which he said was to facilitate the employment.
So, on November 15, 2012, they met and set out for the journey to Abuja. But along the way, the suspect pretended as if his vehicle had developed a fault and asked the victim to come down and help him push the car. But as soon as the victim alighted, he zoomed off with her belongings which included a cash of N235,000 , jewelleries, two Black Berry phones, original credentials, ATM, PHCN card, etc."
Aside Mrs Adenike, it was discovered that four other persons showed up at Ogudu division, claiming to be the suspects victims. Three of the victims, who are members of the Youth Service Corps, were at the Ododuwa office of the command's PRO yesterday. They claimed to have fallen prey to Olalekan tactics on December 20, 2012 while on their weekly Community Development Assignment, in Ibadan.
According to one of them who gave her name as Fadeke Adefemi: " We stood at the bus-stop at Ishara, Ibadan waiting for a bus going inward Ibadan. We were in our NYSC uniform. Then, a car pulled up and offered to take us close to our destination. He told us he stopped because we were NYSC members. Without having a contrary opinion, we all got into the car. But before we got to Guru, along the express, he stopped the car and said he wanted to buy fuel. He later said he had a flat tyre that we should help him push the car away from the express-road. Without suspecting any foul play, we got down and started pushing, only for him to zoom off with our bags, phones, cash and other personal belongings inside"
A forth victim, Akinbo Janet, also told Crime Alert that she boarded the suspect's vehicle at Berger on November 12, 2012, heading for Ibadan. But as usual, he reportedly stopped to buy fuel for his car and later asked Janet to help him push the car that it was faulty, only to zoom off.
" I had my laptop, phones, SSCE certificate, ATM card and NYSC discharge certificate inside my bag. When I dialed my number, he picked and told me to go to Challenge bus-stop to take my belongings. But when I got there, I did not find any of my luggage.
Next day, I went to the bank to withdraw my money because of the missing ATM, only to discover to my shock that the whole N104, in my account was withdrawn at about 1am that day", she stated, trying hard not to betray her emotion.
Nude photos of female victims
The suspect according to the PRO was arrested through intelligence report on December 23, 2012. Recovered from him were his Black Berry phones with pictures of his suspected female victims in their nude. Also recovered were International Passports, ATM cards with different names and female handbags,from where the victims were contacted.
I am on a revenge mission
On further inquiry, it was discovered that the suspect who hails from Ogun state had been arrested for similar offense about four years ago. When approached, he stated bluntly that he was on a revenge mission,blaming his act on his inability to get a suitable job with which to feed his family.
Hear him: "I am into this because I was also duped. I continued two years ago, after I was discharged and acquitted over similar offense. I am a graduate of Civil Engineering from Ilaro Polytechnic, Ogun state.
When I met one of the ladies, she never told me she was married. We started chatting on BB and later met on three occasions at different eateries and a hotel. She told me she was looking for a job and I said I had a slot with the Customs. But I do not know anybody there. It was merely part of the plough. To convince, her I told her we had to travel to Abuja to see the Comptroller General of Customs whom I claimed was my friend and she agreed. It was while we were on the way that I asked her to get down to push the car , only to zoom off."
Asked what he usually did with his victims belongings, he said, "I usually threw them away. I only go for the money. This is because my wife is not aware of what I do."
At this juncture, one of the victims, Mrs. Odubiyi Adenike who was to embark on the supposed journey with Olalekan, interjected: "he is telling lies! He told me his name was Prince Adekunle Oyekan and he used Nigeria Coat of Arms as his picture. So I concluded he was genuine. While chatting , he asked what I was doing, I told him I just finished my one-year Service with NPA. He told me he was a surgeon at the Federal Medical Centre, Owoh and that he had a slot at the Nigeria Customs.
We were never into any relationship. Even on the day he said we should embark on the journey to see the Comptroller General of Customs, I told my husband and it was him(husband) who came to drop me at the meeting point. Would I bring my husband into it if we were into any relationship?
I even told my husband that Adekunle requested for N200,000 but he refused to give me the money. So I had to withdraw the sum of N235,000 which was what I was able to save during my NYSC period.
But on reaching Alausa, on the way to the airport, he said he was going to urinate and when he came back, he asked if I touched anything in the car, that it refused to start. He then asked me to come down and help him push the car, only for him to zoom off. I was too stunned to speak. The painful aspect of it is my original certificates. He instructed me to come along with them, so as to present it to the CG Customs, for immediate employment", she narrated.
The PRO, therefore, advised women; whether married or not, to be wary of the likes of Adekunle, wondering why anyone would enter into a private car without knowing the driver. The suspect, she said, would be charged to court.