Virgin Nigeria Airways Now Nigerian Eagle Airlines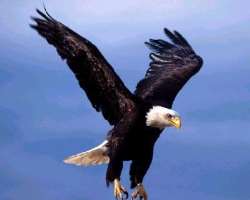 By Kenneth Ehigiator
Virgin Nigeria Airways has changed its name to Nigerian Eagle Airlines, and the new identity takes immediate effect.
The airline also said it had no problems with the United Bank of Africa (UBA) Plc over its indebtedness to the bank, as it was managing and servicing the debt.
Chief Executive Officer of the airline, Captain Dapo Olumide, who unveiled the airline's new identity, told newsmen at a briefing yesterday that the change of name was sequel to the withdrawal of Virgin Atlantic Airways as core investor and technical of Virgin Nigeria Airways (VNA).
Chairman of the Virgin Group, Sir Richard Branson, had last year announced the withdrawal of his 49 per cent equity in Virgin Nigeria, which also attracted 51 per cent ownership by Nigerian institutional investors.
Olumide said the new name was chosen to project the country's image and pride, adding that the desire of the board and management was to build it into a brand.
While one of the airline's seven aircraft is expected to arrive the country today in its new colours and name, Capt. Olumide said all the planes in the airline's fleet as well as offices across the country and West Africa would have been completely re-branded in two months.
Olumide, who asserted that Virgin Atlantic Airways was free to sell its stakes in the airline, said Nigerian Eagle Airlines has concluded plans to source funds from the capital market for its operations.
"We are going to have our private placement in the next six weeks. The Board has met and taken a position on that, and we are also expecting investors overseas to invest in the new airline.
|
Article source