Governors' Forum An Aberration Says Jubril Aminu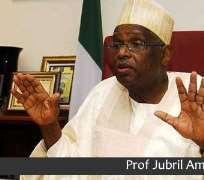 Sen. Jubril Aminu, on Tuesday described the Nigerian Governors' Forum as strange and an instrument of oppressing the Federal Government and the people.
Aminu made the remark at a media briefing, organised by the Adamawa Peoples Democratic Party (PDP) stakeholders in Yola.
'It is very strange. I worked in many countries and have not seen anything like such a forum.
'The Governors' Forum is what is used to oppress everybody, including the president', Aminu said.
He said the forum always ensured that state governors had their way in everything, including nominating who became an ambassador or member of the National Assembly.
'I don't know how the forum came about in this country. And if it is not checked, it will put the country in serious trouble, as the state chief executives unite to challenge the Federal Government,' Aminu said.
He called for the application of internal democracy in the running of the political parties.
He cautioned against the politics of sentiments and stressed that the introduction of sentiments in the nomination of candidates would bring about tyrants in public office.
Aminu protested against the intervention of Gov. Sule Lamido committee in the crisis in Adamawa PDP and said he had no confidence in the choice of Lamido, because of his relationship with Gov. Murtala Nyako of Adamawa.
Tessie