IN DEFENCE OF JONATHAN, ANENIH AND THE PDP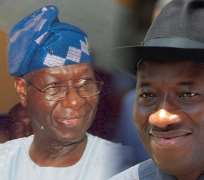 The abandonment of etiquette in the articulation of private fixations was manifest in Theophilus Ilevbare's mumbo-jumbo, entitled: "Jonathan, Anenih and PDP Cahoot (sic)", which was published in Peoples Daily edition of Monday, December 24, 2012 at page 13; and the hogwash in THISDAY of Thursday, December 27, 2012 at page 14, entitled: "Anenih and NPA" written by one Suleiman Abubakar.
Every paragraph of their so-called opinions reeked of invectives and malice. They employed the instruments of direct and veiled attacks against President Goodluck Jonathan, the Peoples Democratic Party (PDP) and the re-appointed Chairman of the Board of Nigeria Ports Authority (NPA), Chief Tony Anenih.
By resorting to personal attacks, they betrayed their predilection as sponsored commentators, whose perspectives to issues and deductions there-from as exemplified in their write-ups, were tainted by bias and commonplace allegations which are largely unsubstantiated.
Both their premises and conclusions, that because Jonathan re-appointed Anenih as Chairman of the Board of NPA, the President's fight against corruption was lackluster, were non-sequitur. For sure, there is nothing creepy about Anenih's reappointment as to threaten the anti-corruption war.
In fact, his reappointment is to continue the regime of fiscal discipline and prudence by ensuring accountability in the administration of funds by the management of the NPA, which he was able to emplace during his first missionary journey at the Authority from February 2009 to October 2011.
Had these hatchet writers chosen to be fair, they should have celebrated Anenih's successful first missionary journey at the NPA the way they celebrated the denouement, which the "politically-motivated conspiracy, trial and conviction" of Anenih's predecessor, Chief Olabode George, represents to them.
They should have also done their researches to objectively locate the achievements of the NPA under the direction of the Anenih-led Board, especially in the area of tackling ports congestion and other reforms aimed at sanitizing the operations at the ports and the Authority.
The point is, had Anenih deployed the instrumentality of his office, which is not an executive position, in any case, as these writers had tried to portray it, to divert the funds of the NPA in bogey contracts to fund PDP elections and other selfish interests, the opposition would have by now exposed the deeds. The NPA is a public trust: its operations are not in the realms of occultism.
But it is amusing that these writers and their sponsors who are under a mental siege that once a PDP leader or member is appointed into the boards of these so-called lucrative agencies, it is for the purpose of plundering and pillaging the public funds domiciled there. Would they have wished that they and their opposition leaders were appointed into these boards, which are reserved for credible and competent members of the ruling PDP?
The PDP could not have appointed Ilevbare and Abubakar's godfathers in the opposition parties to occupy and superintend their so-called honey-pots which, according to them, the boards of the NPA, and other so-called lucrative agencies, typify. The malicious campaigns they and their sponsors embarked upon against Anenih and other PDP leaders would not diminish the status of these patriotic Nigerians.
But in a bid, for instance, to demonise Anenih, the writers had re-echoed the trite claim that as Minister of Works and Housing from 1999 to 2002, he misappropriated funds to the tune of N300 billion meant for road construction and rehabilitation.
It is sardonic that politicians in the other camp have continued to regurgitate this allegation more than eight years after the former Governor of Abia State, Orji Uzor Kalu, who made it in 2004, recanted the allegation, tendered a written apology to Anenih in a peace move that was brokered by the Oba of Benin, Omo N'oba N'edo Uku Akpolokpolor, Oba Erediauwa. Anenih had to consequently withdraw a libel suit he filed against Kalu in court.
Even the Senate, which probed the transportation sector in 2008, had received a presentation by Anenih through its Ad-Hoc Committee chaired by Heineken Lokpobiri that the total amount that was released to the Ministry while he was in the saddle as minister (from May 1999 to October 2002) was N123, 240,812,239.00, out of which N120, 723,387,635.00 was expended on road rehabilitation and construction, while the sum of N2, 517,424,604.00 stood as balance that was left in the ministry's coffer.
It is important to make these points so that like of Ilevbare, Abubakar and their sponsors who have been deploying dishonourable tactics to tackle Anenih would know that their readers are capable of seeing through their antics and chicanery. As if both writers got their brief from the same source, they talked about Anenih losing grips as "Mr. Fix It" with the outcome of the July 14, 2012 Edo governorship election and therefore impliedly not suitable to sell Jonathan's re-election in 2015.
If he has lost grip, why not forget about him? Why have they been very worried about his re-appointment as NPA Board Chairman? There is no doubt that whoever these bogus writers are, they know the capabilities of Anenih to rebound in the face of political adversities and temporary setbacks. To discount him in any political calculations, especially in relation to presidential power politics, is to commit a grave political mistake.
Anenih is a political strategist who knows how to plot his way to political victory and where he fails, how to retreat and re-plot for success. He also has the capacity to provide disciplined leadership in party administration; which is why, unfortunately for the opposition elements, the PDP leadership, acting in concert with the Presidency, may well saddle him with the task of chairing the Board of Trustees of the party.
Contrary to proposition by the opposition camp, it is not necessarily all about 2015 self-succession gambit. It is essentially about giving leadership responsibility to someone who deserves it and has the capability to deliver. It is also not about recycling old hands when it comes to filling critical positions; it is about demonstrating courage, political will and wisdom in the discharge of responsibilities by the occupiers of the positions.
I do not see how these policy decisions conduce to corruption to warrant one of the writers' warped conclusion that: "the Jonathan administration will readily go down in history books at the end of his four years as one of Nigeria's most corrupt administration(sic) if the plethora of reports, investigation and other indices is a yardstick.
I still shudder at the self-conceited and hypocritical pontifications in the closing thought: "President Jonathan has shown from his despicable appointment of Tony Anenih as NPA Chairman that he is in Aso Rock to perpetuate sleaze, entrench impunity and sustain the legacy of waste bequeathed to him by his predecessors. It is a cinch that corruption has come to stay in his administration. As 2015 beckons, Nigerians must be vigilant and vote wisely."
If this was the interpretation of Anenih's appointment by one of the hatchet writers, then I sympathise with him for his little knowledge, which was further compromised by filthy lucre. Was he saying that he did not know that the chairmanship of the Board of NPA is not an executive position? How would this appointment amount to perpetuation of sleaze in Aso Rock? Sincerely, I cannot understand these propositions.
Indeed, is it not clear from the last sentence: "As 2015 beckons, Nigerians must be vigilant and vote wisely" that the writer is on a contemptible errand for the opposition group which has begun electioneering when the time to do so has not come? Should right-thinking persons or well-meaning Nigerians relate well with the propositions of this self-betrayed campaigner of the opposition parties?
Written By John Ainofenokhai

Disclaimer:

"The views/contents expressed in this article are the sole responsibility of

thewillnigeria.com

and do not necessarily reflect those of The Nigerian Voice. The Nigerian Voice will not be responsible or liable for any inaccurate or incorrect statements contained in this article."
Articles by thewillnigeria.com