Six Persons Feared Dead As JTF Hits Boko Haram in Maiduguri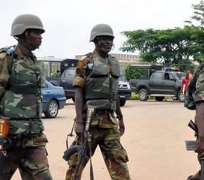 SAN FRANCISCO, December 31, (THEWILL) - Six persons were feared killed in Maiduguri, the Borno State capital, as the military Joint Task Force (JTF) clashed with the Boko Haram dissidents on Monday.
Residents of the Gwange area and the popular Lagos Street where the clash took place said sounds of sporadic and heavy gunshots were heard as people scampered for safety in order not to be caught up in the exchange of fire.
However no official confirmation of casualties from the clash was available at the time of filing this report. But some residents of the affected areas said about six persons, including soldiers and Boko Haram militants were killed in the cross-fire while the areas were immediately cordoned off after the clash.
JTF Spokesman, Lt. Col. Sagir Musa, however, said JTF did not clash with Boko Haram.
He explained that the Task Force had to cordon off the streets to forestall attacks by blocking the movement of illegal arms, explosives or suspected terrorists.
Sagir also denied the report that about 15 persons were killed in Chibok on Sunday.
"The closure of Gwange or wherever you noticed heavy presence of the JTF troops is just to prevent breakdown of law and order, protect lives and properties of the citizens or restore law and order where crisis has taken place," he said.