Governor Peter Obi as a divine gift to the State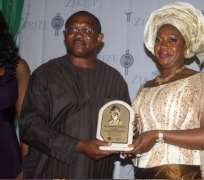 Archbishop, Niger province, Most Reverend Christian Efobi has described Governor Peter Obi as a divine gift to the State, who has distinguished himself in service and enjoined the people not to distract him from completing his vision for the State. He said this while delivering a homily in a thanksgiving service to mark the Seventieth Birthday anniversary of the former State Deputy Governor, Dame Virgy Etiaba at St. Michael's Anglican Church, Umudim Nnewi.
The Archbishop said the fear of God shapes the character and dignity of women and explained that the virtue of noble women is very visible and appreciated by all as they become role models and provide leadership and guidance to others.
In his remarks, Governor Obi stressed the need for people to show gratitude to God for his Grace and blessings. While calling for prayers for the former Deputy Governor, he donated one million naira in support of the church project and pledged a donation of power generator to a centre built in honour of Dame Etiaba.
Obi took the opportunity to assure the people of Anambra State of his commitment to the State. He said all the ongoing projects in the State would be continued, while new ones would be started. He called on Anambrarians to rededicate themselves to the progress and development of the State.