NPA Chair: Group Faults CNPP Over Comments On Anenih's Appointment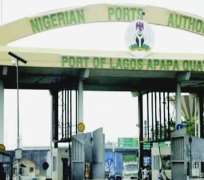 SAN FRANCISCO, December 30, (THEWILL) - A group, The Grand Alliance (GA), has slammed the Conference of Nigerian Political Parties (CNPP), describing its denunciation of the appointment of former Works Minister, Chief Tony Anenih, as Chairman of the Board of Nigerian Ports Authority (NPA) by President Goodluck Jonathan, as an expression of some private fixations.
The group, in a statement issued by its Chairman, Chief Oluponle Ebo, said it was not surprised that the CNPP, which parades itself as an amalgamation of opposition parties in the country, kicked at President Jonathan on the re-appointment of Anenih to the NPA Board.
"But we are, indeed, amused that some individuals have ceased the platform of CNPP to once again propagate their hate campaign against the People's Democratic Party (PDP) and its leaders.
"This was amply demonstrated by the spokesperson of CNPP, Osita Okechukwu, who re-echoed malicious claims that are ancient and unsubstantiated about Anenih while in the saddle as Works Minister from 1999 to 2002.
"Even if he was running errands for his masters, which he has zealously done several times in recent times, we had expected that with his education and enlightenment about events in the country, Osita Okechukwu should have been more responsible in the discharge of his job.
"To claim that the former Works Minister does not deserve to hold any public office again on account of what he (Osita Okechukwu) called 'the woeful performance of Anenih as Works Minister' is to be uncharitable and irresponsibly judgmental.," the group said.
The GA also faulted the claim by the CNPP spokesperson that they were yet "to locate any federal roads awarded with billions of Naira by Chief Anenih as Minister of Works from 1999, which was completed in the more than three years he held sway in the ministry" and queried his motive in raking up hitherto unsubstantiated claims of non-performance and corruption against him (Anenih) as serving the interest of a clique.
The group said the CNPP spokesperson had gone too far in his conclusion that because the NPA had allegedly "been infested with endemic corruption," Anenih should not have been appointed, but rather "a credible, transparent and maritime professional should have been nominated to clean the Aegean Stable in the rotten Nigeria Ports Authority."
According to the group, "it should be clear to CNPP and Okechukwu that Anenih's record of performance during his first missionary journey at the NPA from 2009 to 2011 was impeccable; otherwise, he would have fallen victim of a politically contrived trial and conviction like his predecessor (Chief Olabode George) in office.
"His second missionary journey will certainly be better than the first in terms of overseeing and/or regulating the operations of the NPA as well as ensuring credibility and transparency in the administration of funds by the management. His age, respectability and vantage position in society will no doubt bolster his NPA Board chairmanship."
The GA, however, used the opportunity of its response to CNPP's attack on Anenih to advise other politicians who have continued to refer to the allegation of expenditure of N300 billion made by former Abia State Governor Orji Kalu against the former minister as against the actual N120.7 billion spent on roads, to desist from the pastime.
"It is bad politics to continue to propagate the falsehood when the former Governor Kalu, had in 2004 recanted the allegation, including the one that his life was being threatened by Chief Anenih, and tendered a written apology after he approached the Oba of Benin to broker a truce and prevail on the former minister to withdraw from court a libel suit against him (Kalu)," the group said.
It stated that contrary to CNPP's spokesperson's claim of 'woeful performance,' it was under Anenih's tenure at the Works Ministry (May 1999 to October 2002) that the foundation of whatever progress has been achieved in road rehabilitation and construction in the country today was laid.
The group stated that in Anenih's presentation to the Senate Ad-Hoc Committee on the investigation of the Transportation Sector in 2008, he had said that as a result of distortions of federal highway budget by the National Assembly, project durations were unnecessarily extended, resulting in inflated claims and cost-over-runs by contractors.
The former minister had also explained that projects that were to last two or three years took up to five years because of delayed payments to contractors, stressing that projects that were so dear to the people were abandoned because contractors were not paid and such contracts were re-awarded, at higher costs.
He had cited the example of the dualisation of the Abuja-Keffi road awarded with an initial contract sum of
N10.497 billion with a completion period of two years, but which was, eventually, completed in 2007 (six years after) with the sum of N13.213 billion.
He also cited the dualisation of the Onitsha–Owerri road and Onitsha Eastern Bye-pass, with Contract No. 5660 (82 kms) awarded to CCC Limited (the lowest bidder) by the Federal Executive Council for an original contract sum of N24.5 billion in 2002, but which was abandoned because the contractor was only paid N1 billion.
According to him, "The contractor could not stay on site and had to abandon the contract. It was later in 2007, five years after I had left the Ministry, that the contract was reviewed as follows:(Section I): - Dualisation of Onitsha-Owerri Road and Onitsha-Eastern Bye-pass in Anambra State (47 kms) - Contractor – CCC Limited- Contract Sum – N30.8526 billion; (Section II):- Dualisation of Onitsha-Owerri Road Section II. (35.30kms)- Contractor – Julius Berger Plc- Contract Sum –N19.417 billion."