Global Shares Rise Before U.S. Budget Talks, Yen At Two-Year Low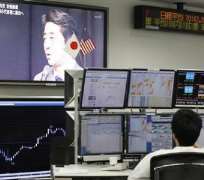 World shares and the euro edged higher on Friday as U.S. lawmakers prepared to resume negotiations on avoiding a fiscal crisis, while the yen hit a two-year low on the prospect of drastic monetary easing in Japan.
U.S. President Barack Obama and lawmakers are set to have a last round of talks before a New Year deadline to reach a deal on averting major tax increases and spending cuts which could drag the economy and others around the world into recession.
Obama and Vice President Joe Biden will meet congressional leaders from the Republican and Democrat parties at the White House at 2000 GMT.
The MSCI all world share index was up 0.15 percent shortly after trading opened in Europe. With London's FTSE 100 .FTSE, Paris's CAC-40 .FCHI and Frankfurt's DAX .GDAXI all just in positive territory, the regional FTSEurofirst 300 .FTEU3 was up just over 0.1 percent and moving towards last week's 19-month high.
Members of Congress were divided on the odds of success at the budget talks, but IG strategist Stan Shamu noted some hope in the markets. "There is growing optimism that a deal can be knocked (together) before the deadline," IG strategist Stan Shamu wrote in a note.
In Asia, Japan's benchmark Nikkei index hit a 21-month high as markets priced in a huge injection of stimulus by the Bank of Japan following the election of a new government. The expectations also pushed the yen to a new two-year low versus the dollar.
The yen has now fallen roughly 10.5 percent versus the dollar in 2012, its biggest annual drop since 2005. At the same time Japan's benchmark Nikkei is up 22 percent for the year.
"The Japanese equity market has turned positive, providing good sentiment for global investors, with many making money and putting the money into commodity markets such as the oil market," said Tetsu Emori, a commodity fund manager at Astmax in Tokyo.
The euro edged up past $1.325 as trading remained thin as Christmas holidays continued for many investors. It came as France reported its economy had grown 0.1 percent in the third quarter.
European bond markets were largely quiet. German Bund futures rose on concerns that a U.S. budget deal will, after all, remain elusive.
REUTERS