YOBE, YOUTH EMPOWERMENT, AND VIOLENT INSURGENCY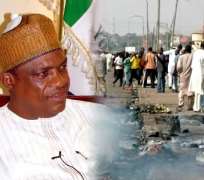 Criminologists have known for ages that economic disaffiliation is one of the most potent triggers of counter-cultural and violent tendencies. They have known, too, that the disempowering tyranny of poverty and the all-too-familiar indiscretions that the exuberance of youth instigate are a combustible mix that all too often ignite extreme social conflagrations. The people of northeastern Nigeria don't need any high-minded social science theorist to tell them this. They know, from their recent lived experience, that poverty and youth don't mix well. The Boko Haram violence, although now definitely fizzling out, is eloquent testimonial endorsement of this fact.
It isn't accidental that Yobe and Borno states, which have the dubious honour of being among Nigeria's states that are poor, bear the worst burdens of the Boko Haram insurgency. Although the ideological masterminds of Boko Haram's terror aren't poor, its foot soldiers are recruited from the flotsam and jetsam of the populace, from the economically disaffiliated in the society, from young people who apparently have nothing to live for and can therefore be easily manipulated into unthinking, unreflecting extremism.
If British politician Benjamin Disraeli is right that "the youth of a nation are the trustees of posterity," then the imperative of governance should be to give the youth of any society something to live for. In other words, the fulcrum of governance should revolve around securing the future of the youth, rejuvenating their hopes, and empowering their present.
The Yobe State government seems to be coming to terms with this imperative. The state's governor, Alhaji Ibrahim Gaidam, has launched an ambitious yet admirable youth empowerment scheme in the past few months that deserves some attention from the media commentariat. The scheme appears to be anchored on three core pillars. The first is employment creation for the youth. The second is instituting basic economic liberties for unemployed and unemployable youth. And the third is a go-getting, single-minded investment in skills acquisition in a bid to instill the spirit of self-sufficiency in what Disraeli would call the "trustees" of Yobe State's "posterity."
Realizing that the educated poor are the most susceptible to frustration and indignation because of the sense of entitlement that their education often activates in them, the governor has provided employment for thousands of recent NCE graduates in Yobe State's civil service and schools. Many more are in line to be employed. The government has also up a "Special Empowerment Committee" to look for and assess young people in the state who have earned National Diploma qualifications and advise the government on "how best to engage their services." According to a recent news report, the governor has also "asked local governments, communities and government agencies to liaise with the Office of the Head of Service for submission or forwarding of new applications for employment into the State civil service from youth who are holders of diploma, NCE and degree certificates."
Scores of bachelor's degree holders (some reports put the number at 3, 780 University degree holders) have also been employed—and continue to be employed as they graduate—in Yobe State government's concerted effort to tackle youth unemployment and inspire its youth with a hope for the future.
It is apparent that the Yobe State government's overall goal is to completely eliminate graduate unemployment among its youth. But we all know that's a tall order. No society on earth has zero percent unemployment. Even America, the world's most prosperous nation, has 8 percent unemployment. And this is where the second leg of the Yobe State government's youth empowerment strategy comes in. Governor Ibrahim Gaidam, being a pragmatic welfarist who has studied the social systems of advanced economies, seems to believe that government has a responsibility to provide social safety nets for the unemployed and the unemployable. That is why he has created social security guarantees for scores of unemployed youth in a programme that identifies unemployed young people with at least a national diploma and pays them a monthly stipend of N15, 000 in exchange for sundry community services like helping with environmental sanitation, crowd control during major events that attract large numbers of people, understudying government agencies, etc.
The programme is akin, in many ways, to what people in Western countries call "unemployment benefits." In the West, citizens who are not employed or who have lost their jobs often get help from their government in the form of monthly allowance called unemployment benefits. No society needs more unemployment benefits for its youth than Nigeria, especially northeastern Nigeria, where crushing poverty has made otherwise productive young people vulnerable to murderous manipulation. As Governor Gaidam himself said on the occasion of the presentation of letters of engagement to youth in the scheme, "Joblessness breeds idleness and related vices including tendency to commit robbery, drug abuse and others. It is for this reason that we decided to set up a committee to look at how we could engage our numerous diploma holders. I am glad to announce that the committee's recommendation that we pay them N15, 000 monthly is granted. They will start receiving their allowances from the end of November."
The expectation of this programme is that after a point, young people who are beneficiaries of this palliative, stop-gap measure would find permanent, pensionable jobs in any number of places: the state civil service, federal civil service, or the private sector. Very few states in the country, as far as I am aware, have similar schemes to help young people navigate the difficult transition from graduation to gainful employment.
But not everybody is employable in the formal sector. A state like Yobe with one of the lowest literacy rates in the country is sure to have an army of young people who are not educated enough to be worthy of employment in the state's civil service. So what has the government done about this demographic category? This is where the state's third youth empowerment strategy comes in. It chose to invest in skill training for thousands of youth both inside Yobe state and outside of it.
The Yobe State Government, as of the end of last month, has extended skills acquisition opportunities to more than 10, 000 youth from the state's 17 local government areas at Kano's Skill Acquisition Center. They acquired such varied vocational skills as carpentry, welding, knitting, tailoring, GSM handset and generator set repairs, knitting, hair plaiting, etc.
Given the phenomenal success of the project, Governor Gaidam said his government would build its own skill acquisition center in Damaturu in 2013 to meaningfully and proactively engage the state's youth who have not had the benefit of a formal education and could be susceptible to be recruited for crime and violence. "Where youths are allowed to wander around without something to engage their imagination and energies, you allow a situation where such energies could be channeled to ends that may not be useful either to the youth themselves or to the communities in which they live," he said.
It is significant that the government does not just provide the youth with vocational skills, it also gives them the financial resources and tools to start their own businesses. A complementary component to the state's skill acquisition strategy is giving the beneficiaries for free what the government calls 'resettlement tools' related to their areas of training to help them set up their own businesses. The government also purchased and distributed hundreds of Keke NAPEP tricycles to uneducated and unemployed youngsters in such metropolitan areas as Damaturu, Potiskum, Gashu'a and Gaidam towns. The tricycles not only provide employment for people who would have been jobless, they also help fill that gap that the banning of Okada motorcycles has created in the state.
After all is said and done, no disinterested observer will fail to see the enormous investment the Yobe State government is making on its youth. It was Franklin D. Roosevelt, the 32nd president of the United States who had the distinction of being elected for four terms, who once said, "We cannot always build the future for our youth, but we can build our youth for the future." I have no doubt that Governor Gaidam is building Yobe's youth for the future through his three-pronged strategy of aggressive employment creation, establishment of basic economic liberties for the unemployed and unemployable, and provision of skills acquisition opportunities for illiterate and barely educated youth.
I can think of no better strategy to combat the now subdued and fizzling-out but surely devastating Boko Haram insurgency in the long term than this.
Written By Ahmad Isa
[email protected]

Disclaimer:

"The views/contents expressed in this article are the sole responsibility of

thewillnigeria.com

and do not necessarily reflect those of The Nigerian Voice. The Nigerian Voice will not be responsible or liable for any inaccurate or incorrect statements contained in this article."
Articles by thewillnigeria.com