James Ibori To Nuhu Ribadu "You are a pitiable fugitive from justice"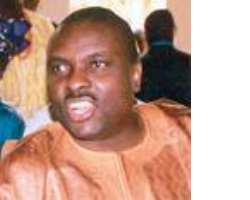 If you think the media ruckus between James Ibori and Nuhu Ribadu, former friends turned foe, is over, then think again, as the former Governor of Delta State yesterday reiterated that Nuhu Ribadu approached him to help unseat President Umaru Musa Yar'Adua.
In a media advisory, made available to Huhuonline.com, Chief James Onanefe Ibori described Ribadu a serial liar.
Continuing, Ibori said "Mr. Nuhu Ribadu engaged in self-glorification in his press statement published on Sunday, 27th of September, 2009, taking an ignoble flight of fancy instead of addressing the issues I raised in my Media Chat of the preceding Friday, which, by the way, did not focus solely on Ribadu. The indecorum and name-calling in his language was not surprising too; they have combined to become the Ribadu signature tune.
"Yes, I maintain that I never, repeat NEVER, bribed or attempted to bribe Ribadu, who muddled the facts to hoodwink the public by alleging that I was speaking after two years of being investigated. Yet, the bribery allegation I reacted to publicly, was the one he made in a witness statement in London as recently as August 26, 2009.
I had to reply to that one publicly because as Ribadu himself knows, that allegation will not be tested by any trial, as no charge whatsoever, whether related to that bribery allegation or not, has ever been leveled against me in any court of law in the entire United Kingdom. His allegation of two years ago, which I have not publicly reacted to, is being tested in court".
"I expected Ribadu to disprove the contradictions I pointed out in his Nigerian and London statements as well as those of his Director of Operations and second in command at the EFCC, Mr. Ibrahim Lamorde, and Mr. James Garba, a Central Bank of Nigeria staff seconded to EFCC. Instead, he employed his usual rabble-rousing antics of name calling, which was the trade mark of his reign as EFCC chairman.
"On my position on resource control and the driving principle behind my determination to redress the injustice done to the people of the Niger Delta, Ribadu asked 'if it is in keeping with his promise that he became a billionaire overnight on behalf of the suffering masses of Delta State.' Ribadu should know that before I became Governor, my collective wealth was substantial. Even the London Metropolitan Police admitted in their own witness statement filed in court that one of my private companies earned in excess of $5 million annually.
"I have been the most investigated Governor in Nigeria and the EFCC and London Metropolitan Police are in possession of my Account statements from the Bank of Austria, Merrill Lynch, Citibank (I was a CitiGold member, a club of high net worth customers) and Barclays Bank before I became a Governor. Both the EFCC under Ribadu and the London Metropolitan Police have dubiously refused to exhibit these Account statements to maintain their lie.
"Secondly, Nuhu Ribadu must be a serial liar, to attempt to deny that he approached me to help unseat the present President. This is one of his numerous on-going attempts to recruit both local and international friends to undermine President Yar'Adua's administration. The persons he approached, including me, are still alive and they have given testimonies to security agencies. Ribadu even contacted a high-ranking member of Independent National Electoral Commission (INEC) with complaints that a 'sick Yar'Adua' should not be allowed to remain in office and also wanted a serving judge and member of the electoral panel to convince the team of INEC officials to concur with his evil plot that the ballot papers were not serially numbered - to damage Yar'Ardua's defence. And he did this with some of his foreign friends who, to date, still wish President Yar'Adua dead.
"Thirdly, Ribadu said: "I am also open to his friendship but that will never be at the expense of my loyalty to my fatherland and commitment to transparency and honesty in public office. Ribadu should shut up and stop boasting about having been Nigeria's anti-corruption Czar. He compromised himself, politicizing his office, and teamed up with politicians to distribute funds to influence National Assembly members in the failed third-term tenure elongation gambit. He was a politician, not anti-corruption fighter.
"Ribadu should wait for the persecution by him and his London Metropolitan Police friends of my associates to break open in a full trial. Then I will enclose copious documentary evidence to substantiate every claim I have made. The opportunistic and brazen-faced Ribadu is nothing but a fraudulent "anti – corruption Czar" who operated with instruments of blackmail.
"He should tell the world who paid for his hotel accommodation at 47 Park Street, Mayfair, London where he stayed on his way from San Francisco, USA. Additionally, Ribadu went about soliciting for contributions from those he claimed to be investigating, towards a non-existent EFCC Football Club, for which he collected large sums of money which was never applied for the purpose they were collected. This may account for one of the reasons why he made away with many files when he was leaving office, and has refused to formally hand over to his successor in office to date. Has he declared how much he so collected?
"Worst of all, Ribadu denies that he lobbied me to be Inspector General of Police, (IGP). I never expected him to admit that fact. But if he did not approach me to be IGP, at what point did he inform me of his intention to seek appointment into a narcotics control arm of the United Nations Organisation? That day he appealed to me to keep it away from the public, but surprisingly, former Governor of Abia State, Dr. Orji Uzor Kalu, told me, a few days after, that Mr. Ribadu was indeed seeking for the office and he heard this from the former World Bank boss, Paul Wolfensohn.
"Of course, Ribadu also pursued Kalu everywhere in the name of investigation, while all the time hiding evidence that Kalu had millions of dollars in foreign accounts before he became Abia State Governor.
"Furthermore, that Ribadu claims to have deposited $15 million at the Central Bank of Nigeria (CBN) is not, and cannot, be proof that I gave that or any sum of money to him. Also, what greater felon could there be than he, an architect of a third-term tenure for a President whose constitutional entitlement is for two terms only, and who tried to induce, harass, embarrass and humiliate National Assembly members to support the project.
"Now, Ribadu is using colonial police in London to settle petty political scores in Nigeria, and he, a lawyer, denigrates and disrespects our judicial system by constant allegation of judicial incompetence. My advice to Ribadu is that President Umaru Musa Yar'Adua has been elected the President of the Federal Republic of Nigeria by the Grace of Almighty God. Ribadu should respect the mandate Nigerians gave to Yar'Adua and stop hopping from one international capital of the world to another like a junketing gadabout, maligning the elected President of his country, to entertain the world and aggrandize himself.
"Ribadu also ranted he would use the London Metropolitan Police to send a certain Nigerian businessman to prison for alleged money laundering because he wrote and published a damaging piece about former President Olusegun Obasanjo's vindictiveness. He actually tried to but only succeeded in wasting British taxpayer's money as the businessman was discharged and acquitted on the orchestrated money laundering charges.
"My question is, was that businessman a public officer in Nigeria? Was it not his masters' bidding to go after that man? May I also ask if Otunba Mike Adenuga, the eminently popular business mogul and chairman of Globacom, whom he targeted and hounded into exile, also a public officer?
"The same Ribadu, master-minded the ex-convict plot against me. One night after a meeting of the co-conspirators to frame and denigrate me at all costs, Ribadu called the businessman to "shoot his mouth" as usual. That same night, the benefactor phoned former Vice President Atiku Abubakar alerting him of Ribadu's plot against me.
"Sooner Nigerians would know how Ribadu purchased by proxy the shares that he owns in his friends' companies. Ribadu would then have to tell the world whether he bought those shares with proceeds from his salary. No wonder he has failed to declare his assets - which tantamount to a crime.
"Finally, Ribadu, on our friendship, said: "Since I couldn't see you when I visited Lagos recently why don't you visit me in London to catch up with your other friends"? I will accept his invitation to visit London as soon as he can prove to me that the matter in London is not driven by malice and vindictiveness. Let me remind Ribadu, my friend, that by now I am too smart to be caught in a political game which himself and his collaborators in the London Metropolitan Police are playing. If he indeed believes that the trial of the women they have held hostage in London is not political, he should allow the process of the court to prove that, instead of pronouncing people guilty even before they appear in court as he usually did as EFCC chairman in Nigeria.
"He is not a staff of the London Metropolitan Police. He is not a member of the Crown Prosecution Service. Neither is he a member of the jury nor the Judge in the matter.
"If you, Nuhu Ribadu, a Nigerian in London, think you have the right to invite me to London to face some trumped up charges, I, a Nigerian with all the rights as a Nigerian, invite you to Nigeria your home country, where you are a pitiable fugitive from justice."
An attempt by Huhuonline.com to contact Nuhu Ribadu was unsuccessful.
|
Article source