Bankole Passes Vote Of Confidence On CBN Governor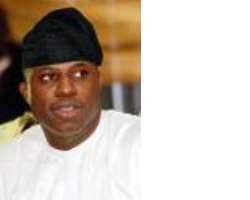 By Tashikalmah Hallah
Speaker of the House of Representatives Dimeji Bankole has passed a vote of confidence on the Governor of the Central Bank of Nigeria (CBN) Sanusi Lamido Sanusi.Bankole said the sacking of management of the five troubled banks and putting their debtors on their toes shows that "We have a new CBN Governor and a new team and they seem to be following the regulations of the industry."
The speaker spoke at the 1st National Project Management Conference Organised by the Project Management Institute, Nigeria in collaboration with the Ministry of National Planning.
The vote of confidence on the CBN Governor by the Speaker was, however, a departure to the position of the House Committee on Banking and Currency, who had pronounced Sanusi guilty in granting N420bn loan to the five stressed banks.
Bankole said the executive arm in conjunction with the National Assembly had constituted 13-man committee to search for a reputable Governor of the Central Bank of Nigeria, the Nigeria Deposit Insurance Corporation, and the Nigeria Stock Exchange following the unprecedented instability in the economy. The Speaker lamented that while economic indicators were worsening, those in charge of the sector at that time kept reassuring the government and people of Nigeria that all was well when indeed the economy was heading for the rocks.
He said the current development in the banking sector the CBN is on the right track.
|
Article source