Yuletide: Okorocha declares two- week holiday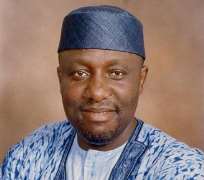 The Imo State Governor, Owelle Rochas Okorocha has declared a two-week work-free holiday, from tomorrow, till January 7, 2013 for workers, in commemoration of the Yuletide season.
Addressing Imo workers at Owerri City School, Owerri, Governor Okorocha used the opportunity to review his achievements with particular attention to free-education from primary school to tertiary level, as well as construction of 305 primary schools in all INEC wards in the state.
Others are Imo College of Advanced Professional Studies (ICAPS), construction of General Hospitals in all the 27 Local Government Areas, construction of one thousand kilometers of roads in the 27 LGAs, construction of 18 floors monument building and thousand units of buildings in New Owerri.
Okorocha decried the attitude of contractors who collect money and thereafter abandon projects, stressing that from January 2013, his administration will deal ruthlessly with any contractor who fails to execute his job for which he has collected money. He promised to make public the names of all the contractors who fail to carry out their projects.
The Governor said that his administration, from 2013, will embark on the construction of industries to reduce unemployment in the state, as well as complete landmark projects which include Multi-Purpose Shopping Mall with a cinema hall, Princess Hotel in Okigwe, Prince Hotel in Orlu, Akachi Tower and Ecumenical Center.
He stated that Owerri will be divided into nine zones for effective waste management disposal, as first class equipment will be procured to ensure sanity in the city.
Okorocha promised Imo workers that his administration will continue to ensure regular payment of their monthly salary as government has deposited workers' three months salary from December 2012 to February 2013.He announced N10,000 to each Imo worker for their Christmas celebrations.
Okorocha assured Imo state residents of adequate security during the Yuletide, and urged tham to appreciate his effort by showing understanding and having a change of attitude to spur him to greater performance.
Dignitaries that graced the occasion include the Deputy Governor, Sir Jude Agbaso, the Secretary to the State Government, Prof Anthony Anwuka, the principal secretary to the Governor, Dr. Pascal Obi, members of Expanded Executive Council, Eze Imo and other top government functionaries.