Dana Crash: House Wants Demuren Sacked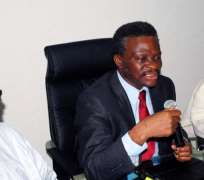 ... Recommends Withdrawal Od Dana's Operation Certificate
… Accuses Air Nigeria Of Diverting N35.5B Intervention Fund
ABUJA, December 19, (THEWILL) - The House of Representatives has said that the Director General of the Nigeria Civil Aviation Authority (NCAA), Dr. Harold Demuren, should be sacked and prosecuted.
It said Demuren's professional negligence contributed to the June 3 crash involving Dana Air plane that killed over 150 persons in Lagos.
Similarly, the House recommended that the air operation certificate (AOC) of Dana Airlines be withdrawn, as it was not issued in compliance with NCAA regulatory guidelines.
These recommendations followed the report of the investigation undertaken by the Senate and House joint Committee on Aviation on the Dana plane crash.
The House, in the report presented by the Chairman of the Aviation committee, Hon. Nkeiruka Onyejeocha (PDP, Imo), submitted that the "NCAA under the leadership of the current Director-General, Dr. Harold Demuren, brought in MD83 to operate in Nigeria even when there is no licensed engineer rated on the aircraft."
According to the committee, "For the period under review, Dana operated 14 air returns caused by system failure which is a sufficient indication of imminent danger. Up to the time of filing this report, NCAA was still without any licensed engineer type-rated on MD83 .Yet it is going ahead with technical audit on Dana operations with a view to restore its license. This constitutes negligence."
The House therefore recommended that "the current Director General of NCAA, Dr. Harold Demuren, should be removed from office for professional negligence and incompetence."
It also advised "The staff strength of NCAA should be totally overhauled with a view to injecting technically and professionally qualified personnel to enhance its regulatory role in accordance with international best practices and operations of NCAA.
Also recommended for dismissal is the NCAA inspector, Engineer Suleiman Akwuh, "who did pre-arrival inspection on the ill-fated Dana aircraft without prerequisite professional qualification."
Regarding the affected airline, the House recommended that "Dana's current AOC should be revoked because it was not issued in compliance with the NCAA Civil Regulations Guideline 2009."
Meanwhile, the House has also recommended that the Central Bank of Nigeria (CBN) should recover the N35.5 billion which was extended to Air Nigeria through United Bank for Africa (UBA) but was allegedly diverted to other uses.
The House submitted that, "The Central Bank of Nigeria N200 billion Aviation Intervention Fund was used to refinance existing facility with banks instead of improving the services and capital needs of airlines."