EMEKA ETIABA QUITS APGA TO PURSUE GOVERNORSHIP AMBITION IN A MORE SERIOUS PARTY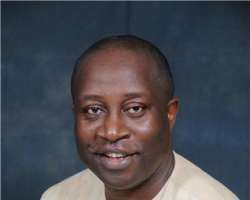 In aresignation letter dated the 31st August 2009, addressed to The National Chairman, All Progressives Grand Alliance and marked for the attention of Chief [Sir] Victor Umeh, Emeka Etiaba in a correspondence titled 'Resignation of my membership of All Progressives Grand Alliance' wrote thus;


"I write to inform you that by this letter, I resign my membership of our dear Party. My decision to quit the Party is borne out of the following facts; Unsubstantiated accusations from the hierarchy of the Party that I am in the governorship race to finally negotiate a deputy governorship position with a given candidate while destroying our Party in the process. Total lockout from the State, Local Government and Ward Party offices and machineries. Threat of sanction and sanction against Party members and officials that cooperate with my Campaign Organization".


"Refusal of the State executive to grant audience to my Campaign Organization, total rejection of our gifts to them on the said occasion and your refusal to act on my petition against such undemocratic and un-courteous treatment. Public castigation of my candidacy by you and the State Chairman in a most undemocratic manner in a bid to please another aspirant. Threat of expulsion from the Party by you and some members of the National Working Committee if I continued with my governorship campaign activities. Foreclosing the issue of Party primaries in Anambra State governorship election, openly and undemocratically stating that the incumbent governor has been adopted to the exclusion of my goodself and indeed others that may have aspired to run for the office of governor from our Party. By this decision, the internal democracy mechanism in our Party was buried for the sake of one man".


"I pray that our Almighty God who knows the end from the beginning will enable you and our dear party, forge ahead in years to come and may posterity judge the decisions that we have all taken during these trying times in our great Party. As I leave our Party to continue with my governorship aspiration elsewhere with a view to taking Anambra State to the NEXT LEVEL, I say thank you and wish that you extend my love to members of the National Working Committee and the entire members of the Party. Onye Aghana Nwanne Ya", Etiaba ended his letter which he copied to "My Leader" [as Etiaba addressed] Dim Chukwuemeka Odumegwu Ojukwu, National Secretary A.P.G.A on behalf of the N.W.C, His Excellency, Governor Peter Obi and Her Excellency, Dame Virgy Etiaba.


Governor Peter Obi said that the number of aspirants clamouring to govern Anambra State come 2010 is about 65. This number is unprecedented in the history of Nigerian politics and goes to prove that everyone believes they can do better than the incumbent governor. However, out of those 65 aspirants jostling for the office of governor of Anambra State, Emeka Etiaba stands tall as an aspirant focused on achieving the feat of bringing a paradigm shift in the vision and mission for Anambra State. His campaign organization, the NEXT LEVEL, has indeed been very active. The women's wing has been superlative since this August traversing the entire local government areas and meeting with Anambra women ably led by Barr. [Mrs.] Joy Etiaba, who happens to be a Mechanical Engineer also. The amiable wife of Emeka Etiaba has caught the vision of change and is running with it.

Emeka's campaign organization has opened its NEXT LEVEL Offices in all the Local Government Areas of the state and is mobilizing seriously. His billboards adorn the major cities of the State and the youth find him the aspirant to partner with. Till date, Etiaba has met with several market leaders and businessmen, pressure groups towns and town unions, students, professional bodies amongst others. His massage of change is permeating the State. Quite a few aspirants are playing the catch-up game but the only one who is not surprised at the young man's energy is Emeka himself. He insists that he did it in 2003 with the incumbent and that it is not new to him.

The camp of the incumbent has accused Emeka of moral burden saying that he is wrong to be challenging Obi in this election. Emeka however waves off the accusation insisting that it was common knowledge that Obi said he will not go for second term. He makes it clear that he declared his interest to run on the 1st day of January, 2009 while Obi changed his mind in March. He sees no moral burden and in any event, Anambra State deserves the best and deserves to take advantage of every aspirant. There will only be one governor and not 65 or more.

Flying as high as Emeka is, there remained a 'but' in his quest for the governorship. All Progressives Grand Alliance under Chief Victor Umeh stated categorically that Emeka is persona non grata and that Obi is their sole candidate. Obi has done well and deserves a second term and must not be subjected to any primaries. He did it in 2003 when he edged out Chief Okey Nwosu who was the defacto candidate of A.P.G.A before the arrival of Mr. Obi. Not even Ojukwu's wise counsel for a primary could stop the determined APGA hierarchy from ostracizing Emeka.

Today A.P.G.A has received some strength and its members are now receiving the Governor's attention chiefly because Emeka had thrown up a challenge. Before January this year, it was alleged that not even the National Working Committee members of A.P.G.A could get to talk to the governor on the phone because in the governor's mind, political parties are like commercial vehicles, they take you to your destination and you disembark. In his estimation, A.P.G.A had delivered him into the office of the governor and he is done with them. Immediately the Governor sensed competition, he funded the establishment of A.P.G.A state office, bought motorcycles and houses for functionaries, started taking calls from A.P.G.A members etc.

Thank God for competition and election. However, Emeka who ignited the change has remained shut out from the Party's machinery. On one occasion, he was refused entry into the Party Secretariat and his gifts for the Executive members rejected. This is the lot of Emeka who till date enjoys the overwhelming confidence and support of Party members and government political appointees. Can the Party be calling for justice at all times while denying Emeka of the same? Does justice have in itself Umeh and Obi's faces with the exclusion of Emeka's? Ojukwu, the leader of the Party, had called for free and fair primaries, but like recalcitrant children, the Party refused to listen. The fear is that the Governor cannot survive such primary and this fear is genuinely founded. The best way to ensure the Governor's emergence as A.P.G.A candidate is to destroy the Party's motto: 'Onye Aghana Nwanne Ya' (Be Your Brother's Keeper). How far has Umeh kept the motto of his Party?

The other aspirants jostling for the office of the governor are happy watching A.P.G.A destroy their brightest chance of retaining the governorship of the state. Emeka's is aspiration frustrated by APGA, the party knowing fully well that the young man has the stuff to win the state. Etiaba has remained focused in his message of change and insists that change is a must in Anambra State. Anambra State cannot continue to eulogize mediocrity. It is wrong to tell Anambra people that the state has no money to create employment but has enough to buy up twenty one colour pages in daily newspapers costing over N8 million to showcase real and imagined projects. Security is a major issue, local investors have left the state and the government says they are bringing in foreign investors. 'How is it possible?'

Emeka argues 'education, health and agriculture have suffered major setbacks. Awka is in a deplorable state, the roads, public buildings are ill maintained, political partisanship has destroyed the unity in the state, environmental issues are unattended, amongst others'. 'These are some of the reasons why change is necessary', Emeka argues. What Party worth its salt will shut its doors against such enigmatic aspiration in such an undemocratic way? Other parties are celebrating their new found unity and enlargement of their membership preparatory to 2010 governorship election and A.P.G.A is sacking and threatening to sack its own members.

Emeka Etiaba knows that A.P.G.A holds no future for him thereby making this timely move now very necessary, if he is going to be a part of the 2010 governorship election. A disappointed APGA Stakeholders Chairman Chief [Barr.] Nnamdi Umeh in a swift response described the reaction of APGA towards Etiaba's aspiration as misguided, resulting in the loss of the only candidate capable of winning the governorship seat back for APGA. APGA is out of it now Umeh lamented when contacted. While we were not able to reach Her Excellency Dame Virgy Etiaba, Deputy Governor of Anambra State and Emeka Etiaba's mum, her Special Assistant [Political Affairs] Barrister Maxwell Ezeude confirmed that Her Excellency is in receipt of her own copy of Emeka's resignation letter. Ezeude confirmed that "Her Excellency is still a member of APGA and will not be resigning her membership of the Party no matter the challenge".

As Emeka is free to ventilate his ambition through a more focused political party, he confirmed that Anambrarians will be addressed by him in due course as the task of saving the state from anarchy amongst many ills is now ever more urgent.