Helicopter Crash: Bayelsa Govt. Awaits Outcome Of Investigations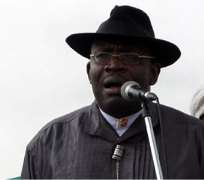 The Bayelsa Government said it was awaiting the outcome of investigation into the navy helicopter crash that killed former Gov. Patrick Yakowaof Kaduna State, retired Gen. Owoeye Azazi and four others. on Dec. 15.
Gov. Seriake Dickson of Bayelsa gave the indication on Monday in Yenagoa, when he received the investigation team from the Federal Government led by the Chief of Naval Staff, Vice Admiral Dele Ezeoba.
The governor, who described the crash as a monumental tragedy, reaffirmed his administration's commitment and support for the investigation.
He commended the naval chief and the team for their prompt response by visiting the state to carry out an assessment of the crash site at Okoroba Community in Nembe Local Government Area.
Dickson expressed the condolences of the government and people of Bayelsa over the death of Yakowa, noting that he was a guest of the state, building relationships.
On the former National Security Adviser, Azazi, the governor said 'here we have lost one of our best, who means so much to the state and has contributed towards nation building'.
Dickson described the navy pilot among the dead as diligent officers, who had served in the state during the flood period and commended their sense of duty and professionalism.
'I condole with the entire military, as well as their families for their tragic loss. We are all in mourning with the loss of these great patriots."
The governor remarked that the navy had been a critical pillar of support to the state in the quest to ensure peace and stability.
He said that the administration had already declared three days of mourning in the state, adding that all formal government activities had been suspended.
Dickson assured the chief of naval staff that the state government would continue to play its constitutional roles and called for more interactions from the Nigerian Navy to discuss issues of common interest.
Earlier, Ezeoba urged Nigerians to remain united in spite of the pain and grief occasioned by the national loss.
According to him, in spite all, we will continue to give thanks to God.
Ezeoba said that President Goodluck Jonathan had directed a detailed investigation into the rash, and gave the assurance that necessary steps would be taken to unravel its cause.