House Of Representatives Back INEC Over De-Registration Of Parties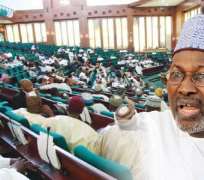 ABUJA, December 17, (THEWILL) - The House of Representatives over the weekend threw its weight behind the Independent Electoral Commission (INEC) in its latest decision to de-register 28 political parties.
Chairman of the House committee on electoral matters, Hon. Jerry Manwe (PDP, Taraba) who disclosed this in Abuja said the action of the electoral umpire was constitutional.
He explained that INEC is empowered by the Electoral Act, 2010 as amended and the 1999 Constitution to de-register political parties that would have defaulted on certain provisions for their existence in the country.
Manwe said his Committee did not summon INEC over the development, because he was convinced by the provisions of both the constitution and the electoral act that, the commission acted right.
"I, as a lawmaker made the (electoral) law, and INEC is supposed to implement the law and they are doing it, so why should I summon them for carrying out their duties as they have been asked to do, based on the Constitution?
"We are not saying there is no provision in the law to allow for freedom of association, but those associating must be guided by law, that's why laws are made.
"Laws are made to be obeyed. Of course, you are qualified to be President of this country, are you not? You are also qualified to be a member of the House of Representatives, but there are guidelines that you need to follow right from the constitution and INEC has done what they did right from the constitution, so INEC has done nothing wrong," he said.
He said insinuations that INEC deregistered parties to pave way for the ruling Peoples Democratic Party (PDP) ahead of 2015 was not sustainable.
"Was it the PDP that wrote the constitution or the electoral act? The electoral Act was the product of all political parties; we had APGA, PRP, ACN, ANPP, and several other parties who sat and made these laws," he said.
The Chairman expressed optimism that the 2015 elections would be better than the previous ones, disclosing that INEC and other stakeholders would hold talks on the loopholes in the previous elections, with the hope of addressing them in subsequent polls.
"INEC has been proactive since the 2011 elections on the issue of preparations for 2015. As I am talking to you now, INEC is planning to meet stakeholders on future elections. There will be a stakeholders' meeting on the 17th of December to address all the loopholes in 2011 elections and they will be blocked in the 2015 elections," he said.
He called on Nigerians in the diaspora to show their patriotism by travelling to Nigeria to vote during elections as the constitution and Electoral Act did not provide for diaspora voting.