Election 2015: Jonathan Says It's Too Early To Decide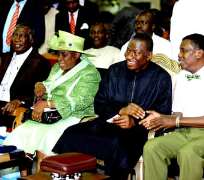 SAN FRANCISCO, December 16, (THEWILL) – President Goodluck Jonathan early Saturday increased the speculation as to whether he will run in the 2015 elections when he told congregants at the 2012 Holy Ghost Congress of the Redeemed Christian Church of God (RCCG) that it is too early for him to declare his intention to re-contest in that presidential election. Instead he urged Christians to intensify their prayers for the incumbent administration.
Speaking at the yearly event organized under the leadership of the church's General Overseer, Pastor Enoch Adeboye, the president recalled how about this time two years ago he sought the prayers of the congregation at the same church. He therefore described his presence at the church once again as unique and special privilege "to be here with you for this special night that we are all here to pray for the forgiveness of our sins and for his blessings."
Continuing, he told the attendants that his becoming the President of Nigeria is a testimony of what God can do for each and every individual stressing that if not for God's intervention he would not be among them addressing them as President of this country. Of course, God works in a miraculous way.
Touching on the next election he revealed that many have asked him if he is still interested in keeping the top job for another four years, President Jonathan emphatically said "People ask me whether I am contesting election in 2015 and I say it is early to decide about election. I am here to thank my brothers and sisters for the prayers that you are offering for this country. With more prayers I am sure we will conquer devil."
The President with unusual candor admitted that Nigeria is bedeviled with problems but also expressed his belief that if more prayers cold be said for the country these challenges could be overcome.
" All nations pass through challenges and Nigeria as a nation is passing through her own challenges but there is nothing, and I repeat nothing that is above the power of God and I am convinced that with our persistent and ceaseless prayers we will surely overcome.'
Going philosophical, he told the gathering that history has shown that whenever anybody set out to do what is right, the devil tries to find ways to stop it, but his administration's attention will not be diverted from the goals his government enumerated in its electoral agenda assuring them "… we will surely cross all the road blocks, we will surely cross all the barriers, God will take this country to where it ought to be."
He also promised that they in political leadership will continue to dedicate themselves to what is right while allowing Nigerians to air their views on issues affecting them.
He also used the occasion to thank Pastor Adeboye and his wife for the good work God has been using them to do."
The General Overseer of RCCG, Pastor Adeboye while praying for the President, asked God to forgive him his sins and give him wisdom that will enable him to be successful. He also prayed for the First Family, well wishers and the nation.
"Our President, I wish you well. I pray that the Almighty God will strengthen you. We pray to God to give you wisdom, understanding, courage to lead us right and victory at the end of your term.
"He has come to you Lord and I am asking that in your infinite mercy, you will forgive him for whatever he might have done wrong. I ask that you give him wisdom from heaven, give him enablement from heaven, give him courage, guide him to lead us right, let him succeed in Jesus name.
Among dignitaries that attended this year's Holy Ghost Congress being held under the theme 'Signs and 'Wonders' were Governor Segun Mimiko of Ondo State and some presidential aides.