BETWEEN IAN AND IDU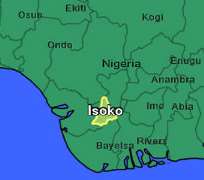 The recent Isoko 2012 interactive session being creatively put together by Isoko Advancement Network (IAN) indicated that Isoko region is gradually pursing its core values of retaining Isoko leadership but needed urgent attention to salvage the region from political and economic manipulators. The so-called and self-styled Isoko Advancement Network (IAN) is a socio-political pressure group aimed at promoting and agitating for the uplift of Isokoland and Isoko people in general.The political organization believes wholeheartedly in mutual interest and developmental progress and growth of every Isoko man.
The IAN is melting pot of Isoko sons and daughters who have excelled in different departments and professions of life while Isoko Development Union (IDU) is a socio-cultural organization that aimed in promoting the veritable vision of Isoko nation which comprises the gathering of highly intelligent and elderly sons and daughters of Isoko. IDU has been created over many years which Union has helped to protect Isoko vision but the recent emergence of IAN which majorly comprises highly intelligent and elite class of Isoko nation which forum is more of political gathering of pursuing of visionary mindset of Isoko nation by certain classes of the region. Isoko division was initially created in 1963 under then western region of the late Chief Obafemi Awolowo's government which was propelled by the late Isoko notable political father of Uzere kingdom, Chief Ekpre Otobo.
It is sad that the so-called IAN is gradually taken over Isoko Development Union in the sense that the former is presently sitting with the Delta State government which has veto power than the latter. The problem with Isoko people is disunity and aimless pursuit of Isoko vision which never gave room to the growing youths of the region to participate in partisan politics rather than violence. Most of these Isoko politicians have decide to use Isoko youths as scapegoats in election time which has compelled the youths to go into destructive violence with no qualms. Isoko region is relegated to the background over the years. Isoko population is over 2.1 million people just two local governments namely Isoko south and Isoko north while over 100 oil wells is located in the region. Having been the second region to discover crude oil and gas in 1957 after Oloibiri in Portharcourt in 1956 and occupies a land space of 96 per square meters. Isoko people are majorly on farming, trading and fishing. Isoko man does not have value for his or her fellow Isoko man which has make the region one of the abandoned entities over the years.
The so-called organized IAN interactive session in Lagos never gave room for Isoko youths to ask question on the change of Isoko values rather being selective in the forum.Some of the questions raised by the audience were not attended to by the SSG, Comrade Samuel Ovuozourie. The forum was all about the strategies of 2015 governorship election of Delta state which was not publicly declared by the said SSG for fear of being intimidated and interjected by powers that be in the state. My question is that is it a crime for Isoko person to contest as a governor in Delta State rather playing second fiddle in Delta politics while allowing minority mentality to overwhelm Isoko mandate in all ramifications.
Isoko people are well educated to the core. One of the problems that sets Isoko nation backward some years ago was that many Isoko people went into teaching profession and religious pursuit and nothing else. It was just recently that Isoko people are now venturing into serious professions that now help to better the lots of Isoko nation..Though ,there is great extent of political and economic civilization in Isokoland. Isoko is the second to none in Delta State and third largest ethnic groups and number eight in Nigeria as a whole, yet not recognized and cannot produce a federal minister or key positions in the NDDC and DESOPADEC in the state. The so-called Isoko SSG stated at the forum that he nominated the name of Chief Gregory Oke Akpojene to Abuja for last year national award which is now addressed as MON.We still have other Isoko sons and daughters that have added values to the economic development yet not politically recognized that was why Chief Ben Oheri shouted for recognition at the forum.. Isoko people place more values on those in political positions than serious entrepreneurs that are making Isoko nation proud.
Isoko nation is yet to be united despite that Isoko has 19 cans in Delta state. Political appointments are more pronounced in Isoko region and spectators in Delta politics.This IAN forum failed to address salient issues that are paramount of importance to Isoko nation which cheaply published Gov. Uduaghan's giant strides development in Isoko only which represents certain section of Isoko region. Our Isoko youths have taken to social crimes like kidnapping, armed robbery, militancy, prostitution, oil bunkering and others are the indications of Isoko bad leadership and representative in government and nothing else. IDU is yet to be recognized as the lone voice of Isoko nation despite its full registration from the Corporate Affairs Commission(CAC) and its core objectives of project Isoko nation.
Even IAN is also registered with CAC and surrounded with intellectuals.If the likes of IDU leaders like Chief Gregory Akpojene (MON), Mr Owho Ovukporie who recently wrote a book on Isoko must unite in Jesus name Amen,Rtd AIG, Felix Ogbaudu, Chief Tom Egbuwoke. Accountant Offor, Rtd Rear Admiral John Kpokpogri, Chief S Uredi, Hon Ross Uredi, Elder Peter Erebi, Frank Alodriah, first IDU vice president, Barr Benjamin Oviririe, Comrade Julius Mallam Obi, Hon Joel Onowakpo and others. The fact remains that IDU is divided into two while the leadership at the centre is at mercy of God. But building IDU secretariat is a form of uniting all factions of the union together. Even SSG, Comrade Macaulay only recognized 4 camps in Oleh and Ozoro of last Isoko flood victims while one Chief Edwin Ufuoma Ozah and Chief (Mrs) Rita Ozah spent over #6.2 million to feed Isoko flood victims from Ndokwa east and Isoko north and south in Irri kingdom.
Even Hon Benjamin Essien also helped to save Isoko flood victims despite he did not belong to PDP but DPP in the state.Isoko is yet to provide a fatherly mindset leader in the region that would help to unite Isoko people while some of the self-appointed leaders have scores to settle in their communities with bad legacy left in the sands of time. Other regions like Yoruba, Urhobo,Itsekeri, Igbo, Hausa and others have a specific father that plays a large role in developing their politics.Who will help to promote our common goal in Isokoland if Isoko people cannot fight it out now. IDU, IAN and other political Isoko organizations should put a stop to the unending Uzere crisis and allow peace to reign.Our so-called traditional leaders and rulers must take Isoko nation to the promised land and avoid be bought over by desperate Isoko politicians in the land.There are still more developments which Uduaghan must provide for Isoko nation before 2015.Both IDU and IAN must work hand in hand to train community leaders on leadership values who have used oil companies to cause havoc in the region. Isoko politicians must learn to reply text messages and calls for urgent transformation of the land.IAN has taken the right direction to make Isoko great in 2015.
Finally, the National Chairman of IAN, Hon Mike Ogwah and IDU National President, chief Oke Akpojene must work hand in hand to build Isoko nation and allow other political organizations to join the titans of vision in Isoko now. SSG must fight for the creation of LCDAs in Isoko now. Everybody must think of what to do for Isoko region. The likes of Prince Frank Egbodo, Chief John Okih, Otunba Isaac Emiyede, Engr Okpithe Solomon must be commended for creating jobs for Isoko people in Nigeria.

Written By GODDAY ODIDI

Disclaimer:

"The views/contents expressed in this article are the sole responsibility of

thewillnigeria.com

and do not necessarily reflect those of The Nigerian Voice. The Nigerian Voice will not be responsible or liable for any inaccurate or incorrect statements contained in this article."
Articles by thewillnigeria.com