CBN BROUHAHA: YAR ADUA'S MAGIC STICK AT WORK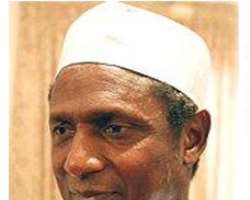 Never For once, have I doubted the ability of Nigeria to make it into the list of the world's first ten economies by the year 2015. However, my belief changed in June 2009 when the new CBN governor was nominated. Being a youth vast in the knowledge of the workings of the system called Nigeria, I know doomsday is near for majority of Nigerians before the end of this year. A major event will happen in Nigeria swiftly after which normalcy will be restored.
As it is right now, Sanusi is working according to the script written by the northern oligarchy. A script designed for the total domination of the nation's economy by the core northern establishment. The content of the script should have been orchestrated immediately Sanusi emerged but for pleadings by President Yar Adua for it to wait till this period, when he will be away for his kidney transplant in Saudi Arabia.
From my sources in Abuja, I have confirmed that this latest CBN sack and incarceration of private bank CEOs is in tandem with Sanusi and Yar adua's conspiracy. It is designed to distract Nigerians from the failings of Mr. President, who is currently in Saudi Arabia on medical treatment. We can remember the couple of times he went on treatment overseas that the media was filled with all kind of stories related to his medical condition. But now, he has designed his exit plan well enough with the help of corrupt justice minister, EFCC and the new CBN governor Sanusi Lamido. This is to ensure that for the next two months while he is recuperating from his surgery Nigerians will continue to hear only stories about the arrest, re-arrest, prosecution and escape methods of the bank CEOs. Already we hear about Akingbola and Ibru's movement overseas. Tomorrow it may be about the arrest or escape of Zenith and maybe firstbank's CEOs.
Knowing fully well how gullible, oppressed, marginalized, intimidated and docile many Nigerians are Yar Adua has used this method to finalize his kidney transplant and recuperate for the next couple of weeks after. This is a sad situation for the Nigerian people because governance will be left in the hands of lame duck politicians like Jonathan and Aoondanka.
Dangote's emergence of the NSE and the latest CBN directive to replace ailing bank CEO's with puppet ones is part of the plan revealed to me. All of these are being done, so that should in case Yar adua does not come back home alive in October to celebrate independence day, the northern oligarchy will have stooges in advantageous and sensitive government positions..
For now, Yar adua and the Northern establishment's magic stick seem to be working. But their plan is going to be short-lived because concerned influential southern Nigeria's citizens are aware of the plan and are working to counter the economic offensive of the North. It has also been exposed to me by my sources in Abuja that the Boko haram sect is still alive and bubbling in their various cells across the north. They are being sustained and financed by members of the northern establishment as an alternative to the Nigerian Army and police, in the event that they are unable to take total control of these forces being currently headed by southerners, IGP Onovo and Marshal Paul Dike.
Recently, the United States re-evaluated their analysis of the Nigerian state and made a new hypothesis that Nigeria may disintegrate before their previous predicted date of 2015. Now they posited that it may be 2013. Personally, I see this as absurd, but my sources in Abuja say the way things are going now it may be earlier than that, maybe by this year's end.
I have since last year been on self-exile after my boss, the SSS director, Enugu made series of attempts to kill me by road accidents and assassination squads. His attempts to kill me were because I knew about his meeting with a core Northern personality, where he agreed to fulfill to the latter all their plans to re-dominating Nigerian economy and political space. Today my boss is stationed at the State house not to protect the presidency but to monitor activities in the State house and give feedback to his benefactors. As it is today, Yar Adua is still the president but major decisions are masterminded by this core northern band of brigands. Nigerians should come out en masse to stage protest against Yar Adua's trip to Saudi Arabia and forget about the CBN brouhaha because all along the government knew about their condition when Soludo was there. That no action was taken against them was that Soludo as a core Finance and economic expert knew the devastating effect it may cause. Sanusi is doing what he is doing now because he is dancing to the tunes of the Northern Oligarchs and is bereft of ideas on how to move the economy forward, going by the fact that he is a fanatic Islamic scholar just like members of the Boko Haram sect. I warn him to desist from being used as a tool like Nuhu Ribadu and El rufai because when the chicken comes home to roost he will be wasted like Boko haram leader Yusuf Muhammed.
Ogechi Igbokwe
[email protected]
Ex aide to Enugu SSS Director