Nollywood actress Monsurat Omidina (Moladun-Kenkelewu) dies mysteriously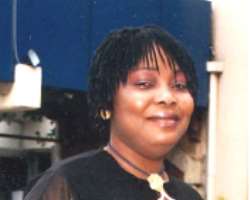 World third largest movie producing industry Nollywood, has recorded another tragic death of one its members, a comedian Monsurat Omidina, popularly known as Moladun Kenkelewu in the early hours of Tuesday (Sept 1). Moladun was a wife to an ace comedian Babatunde Omidina (Baba Suwe).
She gave the last breath at her Ikorodu residence in Lagos. She was assumed to have died of hypertension; sources revealed that thick blood was found dripping from her nose and her two ears simultaneously. Before her death she has been off the set of acting for about three years, presumably to have been battling with her failing health. Preparations were immediately put in place for her burial her according to Islamic rites, the source confirmed.
Monsurat Omidina, 46, left behind two kids she had for Babatunde Omidina. Moladun started her acting career in Ibadan, Oyo State, in the early 90s before she moved to Lagos where she married Baba Suwe. Family members have however opened condolence register for her. Some high profile actors have been paying condolence visits to the bereaved family some of them are: Omidinas' home to commiserate with the family. They include Sheri Ilerika, Akeem Tajudeen, Gbadamosi, Adewale Elesho and Tade Oguntoyinbo.
Family sources said she had been sick for some time and was billed to visit the UK Embassy on Tuesday morning to obtain a visa to travel to England for the needed treatment. But stakeholders in the entertainment industry have frown at this development and berated the British High Commission for delaying the visa too long.
Speaking on this unfortunate lost and the circumstances behind the death, a veteran crime actor and movie maker Olufemi Ogedengbe said he is in shock over the sad news, saying he wants all to stay with the Lord in prayers. He however charged Nigerian journalists to concentrate more in writing on how Foreign missions/Embassies exploit Nigerians in the course of procuring entry clearance to their land. He said if Moladun was granted visa to the UK she probably could have survived or escaped the mysterious, untimely and tragic death that befell one of them.
Similarly in the month of July another star actress and wife of the late politician MKO Abiola, Mrs. Remi Abiola, was said to have died of lung cancer in America.
Until her death, Remi too was a top actress in the movie scene and her dominance was felt more in the Yoruba genre of the movie industry. She relocated to America last year when she went for an award ceremony organized by The Third Eye, a publication that is now defunct.
Remi was said to have stayed back in America after the award because she loved life there. She got a job and started working there, settling into life of an immigrant.
She reportedly slumped and went into coma last July; she was rushed to hospital where she was placed on life-support machine. She eventually died after the life support machine was unplugged, thereby throwing Nollywood especially, the Yoruba genre into state of deep mourning. She is survived by her family members and two children, out of which one is said to belong to late MKO Abiola. Remi who used to work for Nigeria Airways as an air hostess, trained in United Kingdom as a stage actor at the Fielding School for Dramatic Arts. Her foray into movies started with television drama that was popular in her time in the 80s and 90s. She started home video in 1989. Her mother roles in Yoruba movie and apt delivery endeared her to many lovers of movies in the industry. She was a household name in the industry until her death.
|
Article source