Reps Uncover N325bn Missing NLNG Fund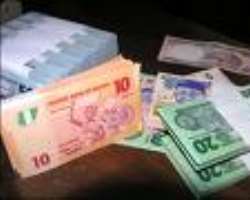 By Tashikalmah Hallah & Nasidi A. Yahaya
The House of Representatives yesterday said it had uncovered about N325billion ($2.5billion) out of N500bn missing Nigeria Liquified Natural Gas Company (NLNG) proceeds. Rep Igo Aguma (PDP, Rivers State) Chairman Ad-hoc Committee investigating the Oil and Gas sector from 1999 to June 2008 alleged that the missing funds have been traced to a Nigerian bank and another bank in Chicago, the United States.
However, he did not name either the two bank. He spoke at the Africa Independent Television (AIT) when the committee on Media and Public Affairs visited some select media organization in Abuja. He said Nigeria invested over $4.5billion in the gas company in the last four years, but regretted that only about N20billion ($127million) was remitted to the federation account.
Aguma said the Ad-hoc committee instituted a forensic investigation into the matter and discovered that the Nigerian National Petroleum Corporation (NNPC) acknowledged the payment of the money but only $127million was confirmed remitted by the Accountant General's office. No comment could be obtained from the NNPC on the claim as at press time. He vowed that the House would ensure that the money is traced and recouped for the development of the country's infrastructure. The Ad-hoc committee chairman explained that MDAs are fond of investing funds on behalf of the government but declared that such investment was illegal without the approval of the National Assembly.
He said the funds accruing from government investment should have gone directly into the federation account for parliament to appropriate accordingly
Commenting on the needed reforms in the oil and gas sector, the lawmaker stated that his committee's investigation has shown that the nation is losing so much revenue from the exploration and sale of crude oil as a result of connivance between NNPC officials and the oil prospecting companies.
According to him "There are no metres at the well-head and the loading bays to measure the actual crude extracted; so you find officials doing the inspection manually. You find out that all vessels loaded at these loading bays are always over-loaded due to the compromise of some NNPC officials."
|
Article source