Anenih Writes Tambuwal, Explains Role In Failed N2.3B Federal Road Contract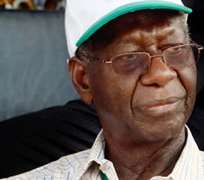 SAN FRANCISCO, December 01, (THEWILL) – Influential politician, Chief Tony Anenih has written to the Speaker of House of Representatives to explain his role in the failed N2.3 billion road contract awarded in 2001 to Torno Internationale Nigeria Limited during his tenure as Minister of Works.

In the letter obtained by THEWILL, Anenih also denied receiving any summon from the House or its committees over the road project. He further described news reports on the failed Nasarawa-Loko Road project and his alleged summon as "slanderous."

The House Committee on Public Accounts Chaired by Honourable Solomon Adeola last Monday said the federal government acted on Anenih's recommendation when it awarded the road contract to Torno Internationale.

A report from the Office of the Auditor-General of the Federation, however, queried the contract after it discovered payments to the contractor for the uncompleted project even after government had cancelled it.

At a meeting with officials of the Ministry of Works in Abuja, Adeola stated that the contractor was paid after the contract failed and the federal government terminated it.

The committee also found out that the same contractor, Torno Internazionale Nigeria Limited, later sued the government and won a judgment of N1.3bn.

"We are looking at the details of this failed contract. How was N1.8bn paid to a man who did not do any work for government?

"Let the former Minister, who was in charge, Tony Anenih, come and brief the committee," the Chairman said.

See Anenih's letter below.