Jonathan, PDP Commiserate With Buhari On Daughter's Demise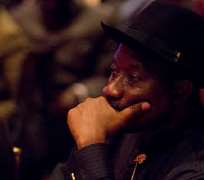 SAN FRANCISCO, November 30, (THEWILL) - President Goodluck Ebele Jonathan has commiserated with former Head of State, Major-General Muhammadu Buhari (rtd.) on the death of his eldest daughter, Zulaihatu yesterday.
In a condolence letter to General Buhari, President Jonathan prayed that God Almighty would comfort him, and grant him and members of his family succour from the pain of losing a beloved child who has been nurtured and raised to adulthood.
"I write to extend very sincere commiserations to you and your family on the death of your eldest daughter, Zulaihatu yesterday November 29th, 2012.
"I can well imagine the profound pain, sadness and sorrow brought upon you by the tragic loss of a beloved child whom you have nurtured and raised to adulthood.
My heart goes out to you as you mourn Zulaihatu. I pray that God Almighty comforts you and grants you and your family succour at this very traumatic time for all who knew and loved her," President Jonathan wrote.
Also, the Peoples Democratic Party (PDP) has condoled former Head of State over Hajiya Zulaihatu's death.
A statement signed by the National Publicity Secretary of the Party Chief Olisa Metuh says "the PDP has received the news of the death of Zulaihatu Junaidu Abdullahi, daughter of General Muhammadu Buhari with deep sadness. The grief over this sad event is felt by all Nigerians including the leadership and members of the PDP nationwide. 


"On behalf of the PDP, the National Chairman, Alhaji Bamanga Tukur commiserates with the Buhari and Junaidu Abdullahi families as well as the people of Katsina State over this unfortunate event.
"We pray that the Almighty God grants her soul eternal rest and may He grant the family and all her loved ones the fortitude to bear this loss. Amin," the party said in a statement.