ECOWAS COMMISSION CONGRATULATES PRESIDENT KOROMA ON HIS RE-ELECTION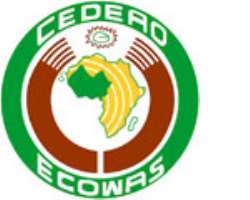 ECOWAS COMMISSION CONGRATULATES PRESIDENT KOROMA ON HIS RE-ELECTION
ABUJA, Nigeria, November 30, 2012/African Press Organization (APO)/ -- The President of the ECOWAS Commission, His Excellency Kadré Désiré Ouédraogo has congratulated Sierra Leone's President Ernest Bai Koroma on his successful re-election for a second five-year mandate in the 17th November 2012 polls.

"This well-deserved victory bears eloquent testimony to the outstanding achievements of your administration since assuming the reins of power in 2007, especially in the areas of peace-building, infrastructural development, consolidation of democracy and good governance," President Ouédraogo said in a congratulatory message.

The ECOWAS chief noted that Sierra Leone "more than ever, requires the unity of all her sons and daughters in order to accomplish the daunting but exalted tasks ahead," adding: "That is why I trust in your leadership to continue with the efforts towards national reconciliation and inclusiveness."

While wishing the Sierra Leonean leader, continued good health and God's guidance, he added that President Koroma's re-election "also avails ECOWAS of your vision and leadership in our drive to strengthen peace and security, and deepen regional integration."

ECOWAS sent a 150-member Election Observation Mission for the elections, the first to be organized solely by Sierra Leoneans themselves since the end of the country's Civil war.

In its report, the regional mission said that on the whole, the voting process took place in an orderly, transparent and professional manner, with the polling adjudged free, fair, and credible.

Final results of the polls released by the National Electoral Commission gave President Koroma 58.7 per cent of the vote, against 37.4 per cent scored by his rival, Mr. Julius Maada Bio.