House Probes Minister Over Corruption Allegations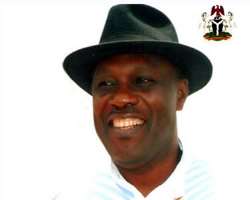 ELDER GODSDAY ORUBEBE, MINISTER OF NIGER DELTA AFFAIRS
ABUJA, November 29, (THEWILL) - In an unprecedented move, the House of Representatives on Thursday directed its Joint Committee on Niger Delta and Anti- corruption to investigate allegations of corruption and abuse of office leveled against Elder Godsday Orubebe, minister of Niger Delta Affairs by the Anti- corruption Network, an NGO and report back to the House within 21 days.
The decision to probe the minister was taken after the unanimous adoption of a motion without debate sponsored by Hon. Segun Odeneye (ACN- Ogun).
The sponsor said the motion was brought before the house against the backdrop of mounting allegations of corrupt practices leveled against a "sitting minister by some anti-corruption outfits in the country."
According to him, Orubebe had made payments for so many phantom projects while presently living in a house at Mabushi District of Abuja built by SETRACO, a construction company that doubles as his crony.
Findings from the Abuja Geographic and Information System, Oduneye revealed, showed that the house Orubebe occupies is his property though he claims it is a rented apartment.
"He posited that he was a seating tenant at his Mabushi multi-billion naira home but searches from Abuja Geographic and Information System has proved beyond all reasonable doubt that the property is not only his but is in his name as well" Oduneye declared.
He also alleged that Orubebe's failure to declare the said house while declaring his assets to the Code of Conduct Bureau was a case of perjury if established.
"These weighty allegations were at first peremptorily rubbished and dismissed by the Hon. Minister as the handiwork of his detractors and some mischief makers who were out to extort money from him," he said.
The lawmaker lamented that neither the ICPC nor the EFCC had commenced any investigation on the allegation.
"What is baffling, Mr. Speaker, is not the allegation of corruption against the Hon. Minister but the fact that neither EFCC nor ICPC has deemed it fit to wade in," he said.
According to Oduneye, it was too late in the day for the House to slow down on its campaign against corruption in the country adding that "it's too late for the House to back down on the fight against corruption" urging fellow representatives to support the motion as the allegation was too weighty to be overlooked.
Hon. Emeka Ihedioha, the deputy speaker who presided advised that the matter should not be debated but referred to the relevant committees of the House for investigation.
" The matter should be referred to the committees on Niger Delta and Anti- corruption for further investigation. It is an allegation, so we should not discuss it on national television, it will be prejudicial," he said.