Budget: Reps Worried Over Poor Release Of Funds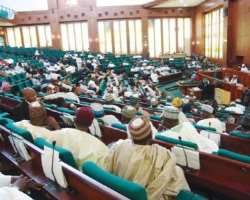 ABUJA, November 29, (THEWILL) - The House of Representatives sitting in Abuja, the federal capital has again expressed its displeasure over the continuous slow release of capital allocations by the Ministry of Finance to Ministries, Departments and Agencies (MDAs).
Deputy Chairman of the House Committee on Media and Public Affairs, Hon. Victor Ogene (APGA - Anambra) speaking at a news conference in Abuja expressed his worry that the N300 billion capital allocation for the first quarter claimed to have been released by the minister of finance was not cash- backed and with 19 working days to the end of the fiscal year, "we think that it might also slow down the momentum that we thought has been built in terms of the implementation of the capital aspect of the budget, " he said.
Ogene said only N1.1 trillion (75%) has been released so far out of the N1.3 trillion budgeted for capital projects in 2012 and even then that money released over a month ago and not cash backed does not speak well of the handling of the country's financial system.
"As equal and joint stakeholders in the Nigerian project, that situation is unacceptable," he said asking relevant agencies saddled with the responsibilities of releasing funds to hasten the process of ensuring that capital allocations to MDAs gets to them on time as the House was working towards the passage of the 2013 appropriation act before Christmas.
On recent comments by Mallam Sanusi Lamido Sanusi, governor of the Central Bank of Nigeria (CBN), Ogene said he was an economist with bias for political turbulence most especially after his recent call for a 50% reduction in the country's workforce to enhance infrastructural development. The lawmaker with tongue in cheek asked that Sanusi should start the reduction of the work force with his staff before looking elsewhere.
The media committee chairman noted that the governor cannot be canvassing reduction in the workforce while government was working towards creating more jobs for unemployed Nigerians revealing that Sanusi increased the staff strength of the CBN from 5,022 to 16, 015 since he assumed office in 2009 as governor.
A member of the committee, Hon. Lanre Odubote (CAN - Lagos), said that Sanusi should be thinking of ways to create more jobs rather than calling for reduction.
He also expressed his disagreement with the CBN governor on the solution to narrowing the budget deficit asking the governor to begin the so called revolution he was canvassing for from his office.
It would be recalled that the House had consistently queried the executive arm of government over poor implementation of capital budgets.