Civil Service critical for national development, Philip Asiodu asserts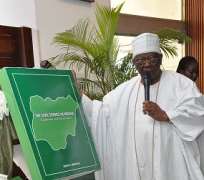 At a time when the Governor of the Central Bank of Nigeria is calling for a 50% reduction in its size, retired civil servant Chief Philip Asiodu has declared the civil service an indispensable tool in governance in Nigeria, if the quest for national development is to be achieved.
The famous retired super permanent secretary declared during the public unveiling of the latest book on the roots of the civil service that Nigeria needs a strong civil service for proper democratic governance. The Civil Service in Nigeria: Evolution and Challenges" is the work of Chief Ebun Omoyele, a retired permanent secretary and veteran of 30-years' service spanning the colonial and nationalist civil service.
Speaking at the presentation of the book at the Nigerian Institute of International Affairs, Asiodu asserted: "It is clear that a government may have and initiate good policies but to deliver on them, the government needs a good and proficient civil service." These sacrosanct facts underline the importance of Omoyele's book, which has been described as a gift to scholars and students alike, to national development.
The former minister extolled the civil service, asserting that "civil servants galvanised as a unit, irrespective of ministry or department of service in which one served to ensure national development."
Chairman of First City Monument Bank and former civil servant Otunba Michael Subomi Balogun formally presented Chief Omoyele's book. He noted, "civil servants are builders of the nation and this book gives kudos to those that perspired to make Nigeria great."
In a similar same vein, the author of the book, Chief Omoyele said: "I want to state that there's no alternative to the civil service. Politicians and political office holders might surround themselves with a retinue of aides and all, but the civil service is a basic institution that every government needs to carry out its duties."
Asiodu praised the efforts of the author in scripting the memoirs and pointed out that "the book x-rays what it takes to be a good civil service. The efforts to build a non-partisan, fearless and patriotic civil service must be initiated by government and shared by all."