EFCC: Ibru's Aides Wanted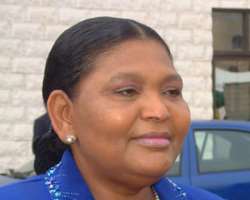 By Boco Edet
Two associates of detained former Oceanic Bank boss Cecilia Ibru have been declared wanted over alleged money laundering, as the Economic and Financial Crimes Commission stepped up its hunt for debtors and those involved in granting unsecure loans by the five bailed-out banks.
Chairman of the Abuja Chamber of Commerce and Industry Mr. Dele Oye and Ibru's aide Mrs. Nananshettu Bedell are "wanted for offences bordering on conspiracy, aiding and abetting and money laundering running into billions of naira," spokesman for EFCC Femi Babafemi said in a statement yesterday.
Babafemi said both suspects failed to honour the invitation of the commission to answer questions in connection with the case.
"The Commission enjoins anyone with useful information that could lead to their arrest to contact any of its offices in Abuja, Lagos, Kano, Gombe, Port Harcourt and Enugu," he said.
Mrs. Ibru herself has been in EFCC detention in Lagos since last Wednesday when she surrendered to the commission in connection with alleged fraudulent abuse of credit process, insider trading, capital market manipulation and money laundering.
The EFCC is also detaining 15 other bank chiefs and around 68 people owing non-performing loans to the five troubled bank—Oceanic, Finbank, Afribank, Intercontinental and Union Bank. They would be charged to court this week, Babafemi had said. Sacked Intercontinental Bank chief executive Erastus Akingbola is still at large, having being declared wanted last week.
The Central Bank of Nigeria on August 14 injected N400 billion into the five banks and also sacked their managing directors and executive directors to prevent what it said was a looming distress. CBN also appointed interim heads for the banks, with a mandate to recover unsecure loans totalling up to N747 billion.
Between them, the five ailing banks account for 40 percent of banking sector credit. The loans included credit to speculators on the stock market, down more than 60 percent from its peak in March last year. They also include unsecured financing to fuel importers who have had to contend with a sharp fall in global oil prices from above $140 a barrel last year to half that level.
The EFCC took up the debt recovery exercise after President Umaru Yar'adua directed all security agencies to move in, and over N46 billion has so far been recovered.
Meanwhile, the anti-graft agency has responded to the spokesman of the Nigeria Bar Association (NBA) Murtala Abdulrasheed, who accused EFCC chairman Farida Waziri of blackmail on account of her statement calling on judges to be cautious in granting ex-parte applications by bank chiefs and debtors currently under investigation.
"There was neither any undercurrent, express or implied, of any threat whatsoever, castigation nor blackmail that would warrant the position put forward by the NBA," Babafemi said, referring to the NBA's response to Mrs. Waziri's statement.
"It is difficult to fathom the linkage between the EFCC boss' statement and the trial of ex-governors for corruption. Abdulrasheed's claim that the NBA 'does not begrudge Mrs Waziri's Commission the right to re-awaken from its long slumber in matters not affecting evidently corrupt former governors in which it has been evidently complicit in their escape from the long arms of the law,' is not only absolutely unfair but equally not true. Is it Mrs Waziri that handles the briefs of the ex-governors?"
|
Article source