Embassies Are Broke, Can't Shore Up Nigeria's Image - Ashiru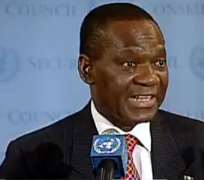 ABUJA, November 26, (THEWILL) - The Minister of Foreign Affairs, Mr. Gbenga Ashiru on Monday said that Nigerian embassies are broke, handicapped and unable to shore up the nation's image.
The Minister told Senators that the poor image of the country abroad would not improve as a result of inadequate funding.
Ashiru who stated this while defending the 2013 budget of the ministry before the Senate committee on Foreign Affairs, disagreed with the committee over suggestions that some embassies should be closed for want of funds to sustain them.
He argued that the move to close down Nigerian embassies would accrue cost, could be reversed by future governments and would send a wrong signal to the host nation.
He nonetheless advanced that a cut down in staff size would serve as a way out.
He said the Ministry expected to receive N134 billion in 2012 but got only N46 billion for the year, adding that missions abroad got N13.9 billion.
Ashiru said, "You have to design ways you can help us so that we can adjust those challenges. There is a template in the budget, which is for assisting Nigerians, the figures are not enough. That is where we can make a difference. Ambassadors cannot do it if they don't have funding. Even to visit our prisons. It takes time. Most missions don't get allocation for assistance. No funds are allocated. We have to have more realistic figures to be able to improve the image of the country. We are handicapped. The envelopes seem to have restricted our ability to share the funds.