EFCC Can Only Convict Yahoo Yahoo Boys, Fraudsters - Lamorde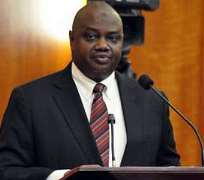 … Says Agency Is Handicapped In Prosecuting High Profile Suspects
ABUJA, November 22, (THEWILL) – Nigeria's anti-graft agency, the Economic and Financial Crimes Commission (EFCC) Thursday said it has been unable to successfully prosecute high profile suspects but has however successfully prosecuted internet fraudsters, popularly referred to as 'Yahoo Yahoo' boys.
The agency, described by many as ineffective and merely a political tool to witch-hunt enemies of powerful people in government, through its chairman, Mr. Ibrahim Lamorde, lamented the commission's frustration and its inability to score a single high profile conviction in over two years.
Lamorde spoke at his commission's 2013 budget defence before the Senate Committee on Drugs, Narcotics, and Anticorruption.
He blamed the overwhelming wealth of the suspects as well as the compromise of the Judiciary for its failures in securing a high profile conviction.
That notwithstanding, the Senate Committee on Drugs, Narcotics, and Anti-corruption directed the EFCC to submit evidences of payments for its travels for both local and international engagements in 2012, which summed up to N650 million.
"This year alone we recorded over two hundred convictions in various courts across the country but they are mostly advance fee fraud, we have the yahoo yahoo, we have the commercial cases, we have the executives of financial institutions that are involved in currency trafficking. The cases that most people are interested in its conclusion are those before the Supreme Court.
"Unfortunately, these are people who have the resources to drag these cases indefinitely and perpetually. That is why we have established a very strong assets forfeiture unit. The first thing we do now is that we try to recover and confiscate the assets of individuals that we are investigating because it is only when you deprive them of their resources that you will be able to force them to stand trial. Once they have access to their resources and assets they will use it to continue to delay and drag some of these trials," Lamorde said
However the committee while considering the 2012 budget of the agency queried the huge sums budgeted for some items, demanding justifications for the amount spent on travels.
Senator Benedict Ayade noted that N357 million was budgeted for local travels and transportation; another N100 million for international travels; N73million for local training and another N130 million for international training.
Reacting, Chairman of the committee, Senator Victor Lar, said, "You are an agency fighting corruption and you must ensure transparency. We need to have all the evidence that you paid for these items."
The committee also noted that N54 million was spent on sporting activities, and over the N135 million allocation for the payment of satellite and broadband charges in 2012.
Responding to some of the queries, Lamorde said, "A lot of funding is required for travelling to the different locations where investigations are to be carried out.
"You cannot predict the actual amount of money that would be required, because an investigator may go to a location and would spend a week in order to be able to do a thorough job…"
However the commission's 2013 budget breakdown showed that it has a total allocation of N9.328 billion even though it requested for N21.028 billion.
Lamorde said the commission requested for N6.514 billion for personnel expenditure, but had N5.804billion allocated to it by the Budget office leaving a shortfall of N710.230 million.
He added that the commission achieved 85 per cent budget implementation in 2012, adding that the 15 per cent remaining might be achieved before the end of the year.