Uduaghan Promises A Centre Of Excellence For Kidney Transplant As DELSUTH Collaborates With TEXAN University On Nephrology, Kidney Transplantation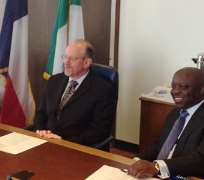 ASABA, November 21, (THEWILL) – The Delta State University Teaching Hospital, Oghara (DELSUTH) has signed a Memorandum of Understanding (MOU) with the University of Texas Southwestern Medical Center (UTSMC) to develop a centre of excellence for kidney transplant and treatment of kidney related diseases.
Delta State Governor, Dr Emmanuel Uduaghan who led a delegation of the State officials to UTSMC, explained that the objective of the MOU was to "establish a partnership that promotes joint initiatives in the fields of Nephrology and Kidney Transplantation between the parties".
According to him, it would take between 14 and 16 months to set up the fields of Nephrology and Kidney Transplantation of internationally acceptable standards at DELSUTH.
Specifically, this requires improvement of the Dialysis centre, the Laboratory, Radiology and Theatre departments of DELSUTH into centers of excellence.
To achieve this, the Governor disclosed that the State Government would in the next 10months, enhance the infrastructures and equipment at DELSUTH as well as the capacity of the personnel.
He said that the personnel at DELSUTH would be sent to UTSMC for specialization and refresher courses to enable cope with the new facilities and discharge their duties efficiently.
Dr Uduaghan noted that the overall objective was to make the facilities for nephrology and kidney transplant available and at a cheaper rate for the people.
Besides, he said that it was part of the State's larger policy of boosting medical tourism as well as enhancing the internally generated revenue base of the State.
The MOU was signed on behalf of DELSUTH, by Dr Leslie Akporiaye, Chief Medical Director of DELSUTH and witnessed by Dr Daniel Omodon, Permanent Secretary State Ministry of Health.
Dr Peter Igarashi signed on behalf of UTSMC while Dr Juan Arenas witnessed. The UTSMC delegation was led by its executive vice president, Dr J Gregory Fitz.
In his remarks, Dr Fitz expressed delight at not just the collaboration between DELSUTH and UTSMC but the enthusiasm and determination shown by the Delta State Government on behalf of DELSUTH.
In particular, he said that the presence of the Governor at the signing of the MOU was an indication of the seriousness attached to the project by the Government.
Recently, DELSUTH successfully carried out knee replacement as well as cement-free hip replacement which are major surgery procedures rarely undertaken in Nigeria.
In fact, the cement-free hip surgery carried out by DELSUTH, at Oghara was the first of its kind in Nigeria.