Appeal court orders tribunal to hear suit on Oshiomhole's qualification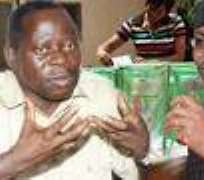 The Court of Appeal holden in Benin today, Thursday, the 15th of Noveber, 2012 dismissed the September 27th ruling of Edo State Election Petition Tribunal which struck out Paragragh 4,12,13,24 and 25 of the petition of the PDP Governorship candidate, Major General Charles Arhiavere (rtd) challenging the academic qualification of the 1st respondent, (Comrade Adams Oshiomhole) and ordered that the paragraph be restored in the petition and the case should be entertained. In the ruling that lasted for over three hours, the presiding judge, Justice Helen Ogunwumiju said the tribunal erred in law by stating that the academic qualification for the office of a Governor is a pre-election matter that should not be entertained. The learned Justice noted that having gone through the paragraphs of the petition, it was glaring that the petition of the appelate was lucid, direct and wondered why it was struck out.The appellate court said by the provision of Section 177 of the 1999 Constitution as amended, the lower tribunal had jurisdiction to entertain Airhiavbere's petition bordering on Oshiomhole's qualification because the Court can hear pre-election and election matters on qualification.
Justice Helen Ogunwumiju further held that the Supreme Court had always warned against dismissing election petitions on technical grounds without allowing parties to ventilate their issues on merit.
Meanwhile, the court also in a unanimous judgment dismissed Oshiomhhole's cross appeal against Airhiavbere's appeal, holding that it lacked merit.
General Charles Airhiavbere of the Peoples Democratic Party (PDP) is challenging the academic qualification of Adams Oshiomhole to contest the July 14 governorship election in the state.