'Indebted' Ghanaian Saved From Prositution By TB Joshua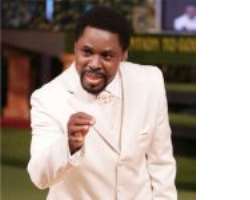 A Nigerian church where the pastor gives hefty sums of money to the poor and asks his congregants to do the same? Welcome to the world of TB Joshua, a pastor working hard to break the stereotypical connotation of greed and money-mongering attached to many Nigerian clergymen…
Sunday 2nd August proved a turning point in the life of Teresa Isaac, a Ghanaian lady forced into hiding due to a mounting debt and demand for her life. She had sold her property and fled her locality, fear and desperation leading her to neighbouring Nigeria, the burden of an unpaid loan clouding her senses. Penniless and hopeless, prostitution seemed the only availing option save starving on the streets, until a Good Samaritan directed her to an unusual church in a Lagos suburb.
"I don't want to sleep with men to get money – that is why I came here. Please, help me," Teresa tearfully confessed to a packed auditorium at The Synagogue, Church Of All Nations in Lagos. Emotionally recounting how she had been arrested twice in Ghana before fleeing to Nigeria, the despondent widow declared her hope had all but gone, having been on the run for nearly a year. "Don't judge her," said Pastor TB Joshua, appealing compassionately to the congregation. "She chose to come to the house of God instead of going to a hotel to prostitute herself. I will give her N300 000." The audience erupted in thanksgiving, Teresa lost for words. Her ordeal had finally ended.
In the dramatic service shown live on Emmanuel TV, Mrs Fatima Obidan was similarly supported. "I live in an uncompleted building, my three children have ran away from me. Man of God, please help me," she cried. Joshua instructed his evangelists to give the widow N200 000 alongside three bags of rice, with a promise of scholarships for her three children once found. A worshipper in CAC Church, Pastor Joshua did not demand her membership before reaching out with assistance. "Go back to your church, and serve the living God," he instructed her.
Taiwo James, a Nigerian student, received a scholarship to the University of Lagos to study Business Administration. His first time to the church, he had complained that after gaining admission his aged parents were not financially buoyant to sponsor his education. "If you don't help this brother, he will join the street gangs," said Pastor Joshua, promising to fund him throughout his tertiary education. He was given N98 500, the fees of his first term.
The works of charity at The SCOAN are reputed to be as old as the ministry. Under the banner, 'Another Ministry', TB Joshua has various programs to support the less privileged in society, ranging from the orphans and physically challenged to the aged and dwarves. "The primary reason why we are blessed is to bless others," explained Joshua. "Can you see the reason why you should not live a flamboyant life?" Stressing the virtue and value of giving, Joshua urged those present to find such less-privileged in their own community and render whatever assistance they could. He warned of waiting for a convenient time before giving. "The best time to give is when you have little. It is when you have little that you can give what your life depends on. There is nothing too small to give."
Citing his own life experience, Joshua explained how charitable acts had been part of his life right from childhood, even giving an orphan his school fees at the tender age of ten, albeit his own circumstances of poverty and the early death of his father. "This is what life is all about," he exclaimed. "They are fatherless so that you can be their father; they are lonely so that you can be their companion; they are in want so that you can be their benefactor. What can you do to affect people's lives? Please do it." He proceeded to thank the beneficiaries for receiving his gift, stating it was a real privilege to be in such position to help them. "The more I give, the more my responsibility from God."
In a message titled 'Our Condition,' Pastor Joshua had exhorted the scores of worshippers and worldwide viewers not to be misled by their condition to desperation, and thereby to take a wrong step. "It is better to live poorly upon the fruits of God's goodness than live plentifully upon the products of our own sin," he said. Revealing satanic strategies to deceive God's people, he expounded, "The great thing satan aims at in tempting the people of God is to overthrow their relationship to God as a Father. Outward affliction, wants and burdens are the great arguments satan uses to make people of God question their sonship." He therefore admonished the rich not to concentrate on their riches or the poor on their poverty, but rather to focus on serving God in truth and faith, no matter their condition.
The service took an electrifying turn at the time of prayer, with several demonic spirits uncannily manifesting amidst the crowd. "She's my property TB Joshua! What are you doing to me? Why are you doing this? I am losing my wife! I hate you," screeched an evil spirit dwelling within a lady from Botswana. "This body is my home," shrieked another, "You cannot take me away." The prophetic messages were just as powerful with revelations of pin-point and remarkable accuracy given to scores of individuals in attendance.
The Synagogue Church of All Nations continues to make headlines for its rare and raw type of practical Christianity, with thousands flocking weekly to Ikotun-Egbe in Lagos for healing and a message from God.
|
Article source