HOUSE OF JACOB COMING TO LAGOS STATE, NIGERIA ON 9 NOVEMBER 2012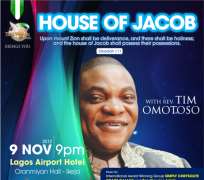 Rev Tim Omotoso is coming to Nigeria for the House of Jacob in Lagos Ikeja at the Airport Hotel (Oranmiyan Hall) on 9 November 2012 at 9pm.
The House of Jacob is a specially designed formatted meeting showcasing the power of God, revealing hidden mysteries about individual lives and displaying an instant manifestation of breakthroughs and deliverances. It is based on a scripture in the Bible, (Obadiah 1:17) that says, 'Upon mount Zion shall be deliverance, and there shall be holiness; and the house of Jacob shall possess their possessions.
The House of Jacob is done regularly majorly in Durban City and randomly in other cities in South Africa. There has been thousands of astonishing testimonies and breakthroughs in every single House of Jacob meeting which is filled with praise and worship music, fireball prayers and undiluted word of God.
Rev Tim Omotoso said this about the forth coming meeting, "I am full of Joy and expectation as I will be in Nigeria for a night of deliverance, where every spirit of limitation will be cast out and you WILL possess your possession in Jesus' name. It will be a night of praise, prayer and deliverance as the Lord has prepared me for this hour and for His people"
Also featuring in the special night vigil meeting would be the multi-quadruple international award winning girlband, Simply Chrysolite from South Africa & Double 2012 Black Entertainment Film Fashion Television Arts award nominee, Grace Galaxy. A number of top Nigerian gospel musicians and artists would be performing too.
Rev. Timothy Oluwaseun Omotoso is a Prophet of God by calling who loves introducing the God of the Word to people, injecting them with the necessity of praying always, praising God everywhere and meditating on the Word of God. His primary assignment on earth is to turn the hearts of men back to God. Rev. Timothy, whose parents are from Oyo State, was born in Ibadan to a pastoral family who encouraged him to walk the way of the Lord Jesus Christ. He was greatly influenced by Prophet Ezekiel Babalola his mentor, Prophet Timothy Obadare and the founder of C.A.C Apostle Joseph Ayo Babalola.
He is the founder of Jesus Dominion International, Tim Omotoso Global Outreach & The Help the Helpless Projects. Rev. Timothy Omotoso was the former music director of Commander Ebenezer Obey's Decross Band & Inter Reformer's Band in the 80's. (Ebenezer Remilekun Aremu Olasupo Obey-Fabiyi), the famous Nigerian pop musician.