After A Weekend With Mosquitoes, Cecilia Ibru Collapses In Court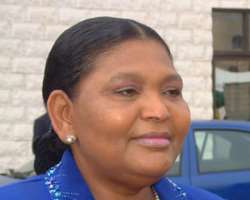 By Francis Ugwoke
The former Chief Executive Officer of Oceanic International Bank Plc, Mrs. Cecilia Ibru, collapsed yesterday in court after battling mosquitoes in the custody of the Economic and Financial Crimes Commis-sion (EFCC) where she spent last weekend.
Ibru had surrendered herself to the EFCC last Wednesday at the commission's Lagos office and rather than release her after interrogation, she was detained throughout the weekend.
The former Oceanic Bank CEO slept on a mattress in a four-wall room in EFCC detention camp.
Ibru's lawyer told THISDAY last night that because of lack of power and the fact that EFCC had no diesel for its generator, at 7pm most days the former Oceanic boss' room would normally be infested with mosquitoes.
Although Ibru was with her doctor, Major-General Gabriel Ovadje (rtd), in detention, the doctor was, however, restricted to the waiting area downstairs, a heartbeat away from the detention room.
Efforts by the doctor to get the EFCC officials to make diesel available for the generator yielded no fruit as they were said to have insisted they had no such brief.
The former Oceanic CEO who has been married to Olorogun Michael Ibru for close to 45 years is used to comfort.
Ibru, who all along appeared stressed up, suddenly collapsed in the dock after 18 of the 25-count charge had been read to her.
The development, which caused panic in the court, stalled proceedings for about 10 minutes before her doctor, who had accompanied her to the court, attended to her and certified her fit to continue with the trial.
EFCC could not be reached last night to react to the lack of power at their detention centre on Awolowo Road, Ikoyi.
Meanwhile at the end of the proceedings, Mrs. Ibru and the directors of Intercontinental Bank were remanded in EFCC custody, while the former Managing Director of Finbank Okey Nwosu, former Afribank MD Sebastine Adigwe and Mr. Peter Ololo were remanded in prison custody.
Justice Dan Abutu handed down the remand orders when sacked bank executives took their turn in the dock, where the Economic and Financial Crimes Commission [EFCC] arraigned them on five different charges. Also ordered to be remanded in EFCC custody were Dr. Bartholomew Bassey Ebong, Mr. Henry Onyemem and Mr. Niyi Albert Opeodu all of Union Bank. Ebong was the bank's former managing director. Also arraigned yesterday were seven directors of Intercontinental Bank including its Chairman Raymond Obieri.
However, a mild drama occurred when Ibru who appeared all along stressed up, suddenly collapsed in the dock after hearing count 18 of the charge.
The accused persons, who were brought to court by the EFCC around 1:15pm, were accused of committing economic crimes by granting several loans worth billions of naira without collateral.
Nwosu, who was the first to be arraigned on 11 charges, was accused of "failing to take all reasonable steps" to ensure the correctness of Finbank's monthly bank return to the Central Bank of Nigeria (CBN) between October 2008 and May 2009. He was also accused of failing to give "a true and fair view of the state of the affairs of the bank" to CBN by incorrectly importing N47.6 billion of commercial papers under the Expanded Discount Window in Finbank's statement of assets and liability. According to the EFCC, the offences are contrary to and punishable under Sections 28 (3) and 50 of the Banks and Other Financial Institutions Act CAP B3, Laws of Nigeria, 2004.
Adigwe was arraigned alongside Peter Ololo and his company, Falcons Securities Limited for allegedly granting "reckless credit facilities running into billions of naira." The facilities, according to the anti-graft agency, were granted by Adigwe without adequate security, contrary to acceptable practice. He was said to have granted the loans to eight companies between October 2008 and April 2009 without adhering to due process. He was further alleged to have failed to keep proper books of accounts to wit: classification of commercial papers as contingent liabilities of Afribank, offences said to contravene the law.
Ibru, who was arraigned on a twenty-five count charge, was accused of granting bad loans running into N100 billion. She was accused of granted a non-performing loan to seven companies and to one Ibru Edesiri Onateji without security, contrary to the Bank's regulations.
She was also accused of granting a N25.5 billion loan without the approval of the apex bank and contrary to the laid down procedures.
The Intercontinental Bank directors were accused of granting over N32 billion bad loans to companies were they had vested interest without security. They were also accused of taking $10,000 each as holiday allowance in contravention of the Code of Conduct for banks issued by the CBN.
There were said to have ensured that the balance sheet of Intercontinental Bank "does not give a true and fair view of the state of affairs of the bank" with regards to the non-performing credit amounting to N87.6 billion, thereby committing an offence under Section 28 (1) (2) of the Banks and Other Financial Institutions Act Cap B3, Laws of the Federation, 2004 and punishable under section 28 (3) (A) of the same Act.
Former Union Bank boss Ebong, on his part, was charged for granting over N150 billion bad loans, while Adigwe was accused of granting N91 billion in loans without collateral. However, the former Chief Executive Officer of Intercontinental Bank, Erastus Akingbola could not be arraigned alongside others as he was said to be at large.
After hearing the allegations against them, all the bank chiefs pleaded not guilty. Frantic efforts made by their lawyers, including Wole Olanipekun (SAN), Professor Gabriel Olawoyin (SAN), Niyi Akintola (SAN) and Peter Jimoh-Lasisi (SAN) to secure their bail proved abortive as the presiding Judge, Justice Dan Abutu ordered them to file formal applications for bail. The prosecuting counsel, Rotimi Jacobs, had objected to the bail, arguing that counsels must file written addresses so as to enable parties to put enough materials before the court.
Abutu consequently ordered Nwosu, Adigwe and Ololo to be remanded in Ikoyi Prison, while Ibru and the seven directors of Intercontinental Bank were remanded in EFCC custody. The matter has been adjourned to September 4 for hearing of bail applications.
|
Article source